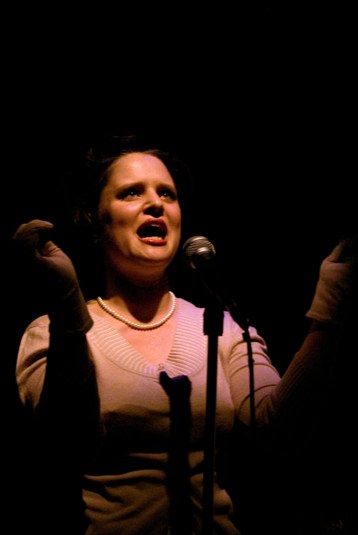 hanna cormick is a licensed religious practitioner. photo by 'pling
.
In January 2004, I received a mentorship with playwright Paschal Berry through the Canberra Youth Theatre Engagements program to develop my script Vampire Play for a production that August. My response to this awesome opportunity was to panic, put Vampire Play aside, and start work on a new script completely, drawing in equal parts from Jeff Noon's short story Creeping Zero and his novel Falling Out Of Cars. These first sketches were the guts of what would become Car Play, and then Oceans all boiled into sky.
In 2005, I received funding from ArtsACT to write and workshop a first performance draft of the script (under the working title of Car Play), working with dramaturg Paschal Berry, director barb barnett (of Serious Theatre), and five actors (Raoul Craemer, Lara Lightfoot, Alison McGregor, Jack Lloyd and Rob de Fries). From January – May 2006, I wrote endless reams of garbage, while Paschal, barb and the actors attempted to shine a light on what, if anything, was worthwhile about the script. In May 2006, there was a public reading of the script, which was attended by 80-90 people. The feedback from the audience was generally positive (although it was fairly unanimous that the 3rd of the three acts was pointless and boring), and that was that for a while.
In December 2006, Car Play was accepted into the inaugural Interplay Online Festival, and received further dramaturgical support from playwright David Ryding. At the end of the year, the script (now properly named Oceans all boiled into sky) was nominated for the Max Afford Award, a national playwriting competition. The judges described it as:
A sharp and witty comedy with Orwellian overtones. The plot is brisk and engaging and the characters are vivid and enjoyable. The style is theatrical and the conceit of the writing holds up well until the denouement. The panel felt that, whilst the resolution needs some work, the playwright shows great instinct and promise.
At the beginning of 2008, I met with Caroline Stacey, director of the Street Theatre, to ask whether a production of Oceans might be at all of interest to the Street. Caroline was positive, and arranged for the script to receive further dramaturgy from Peter Matheson. I approached barb barnett, who had workshopped it with me in 2006 and directed the public reading. barb was willing to take on directing again, and so Oceans was programmed for a November 26 – 29 season, as a Serious Theatre production for the Street's 2008 Made In Canberra series.