Director's notes
Combining elements of Science Fiction, teen romance, history and/or science lesson, buddy-flick, and para-fable, David's fabulous road-trip is frenetic – unrelenting. oceans… asks a lot of its audience, and in exchange, the play offers a world view that is alien, yet frighteningly familiar. Like all good 1950's Sci-Fi, oceans… casts its eye over society, and, finding it lacking, asks how an individual's choice/s alter reality. What is too great a risk? – How much can one take before breaking point? – the existential web of life…
Sound is integral to the pace and rhythm of the play. The language, melodic and meandering, is further enhanced by track-titles like: 'Rich, Thick, Syrupy', 'Gruesome, Heavy' and '… to herald in a new era of prosperity…' Sound has the ability to influence the structure of matter; it resonates within the human body; it is a weapon and has restorative qualities; it has power.
My profound thanks to David for letting me mess with his world – I am forever changed! – & to the outstanding Chris, Raoul, Hanna, Ginny and Lloyd; for forever fixing the world of oceans… in my mind – you are glorious, giving, 'human beings of the human race'.
Gillian never ceases to amaze me – her holistic approach to design is a delight – I thank her, as I have for the last many-a-show, for her dedication and creative spirit.
Warwick's and Erika's compositions are outstanding. The world outside the Starwagon – redolent yet unknown, contrasts the relative sanctuary of the interior.
Jack's considerable contribution adds a much-needed visual element to support the 'Radio Play' concept. The character drawings come to life to support the action.
So settle back – shoes off – turn on the radio and immerse yourself in a young man's 'journey of discovery' unlike anything you've encountered before!
barb barnett
serious theatre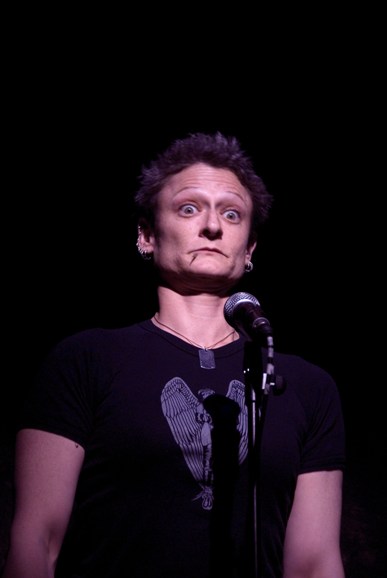 barb barnett. photo by 'pling.
Directed by barb barnett
Featuring:
Raoul Craemer
Chris Lloyd
Lloyd Allison-Young
Virginia Savage
Hanna Cormick
Set, costume and lighting designer: Gillian Schwab
Projections designer: Jack Lloyd
Music and SFX: Warwick Lynch and Erika Ikenouchi
serious thank –
Caroline Stacey & The staff at The Street Theatre
Bernadette & Barney Barnett
Jim Cotter
Bridget Balodis
Peter Matheson
Kimmo Vennonen
'pling
Erin Pugh
David Shaw
Nigel McRae
Jigsaw Theatre Company
Dr Russell Brown and Rep