produced by NUTS, Bohemian Productions, the Masters of Space and Time, A Small Wooden Duck, Opiate Productions
C-Block Theatre, Sep 2005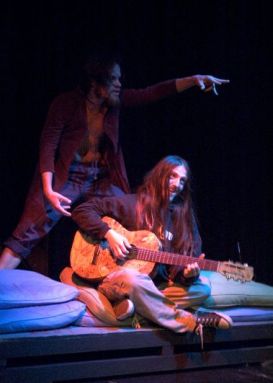 The Witchdoctor (Max Barker) and Witchbringers (Rafe Morris) in Savage Dancefloor.
.
In September 2005, thirty young artists from various Canberra theatre companies assembled to produce three original plays. The C-Block Theatre was transformed into a concert for One Night Only: Dallas Rockwell's Confessional Tour.
The three plays take place in one building on one night – the final performance of former boyband sensation Dallas Rockwell's solo tour.
Savage Dancefloor – an ancient witchdoctor unleashes his evil upon the moshpit!
Flush – two music critics trapped in a toilet go rapidly insane.
Loose… Ships – backstage all is not well with the famed Dallas Rockwell.
.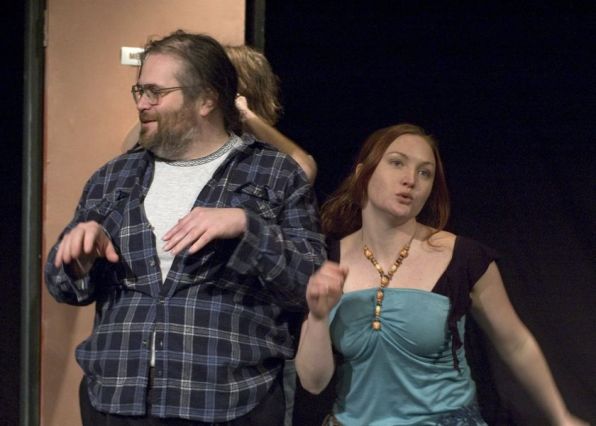 Bob (Robbie Matthews) and Tara (Petra Elliott) in Savage Dancefloor.
.
Reviews
.
BMA, September 20th, 2005, by Caitlin Croucher
Who would have known that Dallas Rockwell, performer and sex god to thirteen-year-old girls, was so popular? Indeed, I had never heard of the skinny bastard. But as we enter the Gorman House C Block, there are youths among us screaming his name. One homie loudly insists that P Diddy is the support act, and in the background a security guard is busy hanging someone trying to hand out religious pamphlets (security guards can do that?), to the gasps of gum-chewing teenyboppers. And this is before we've even entered the theatre…
For the first play – Savage Dancefloor by David Finnigan and Max Barker – the support act is not P Diddy (as apparently he has been beaten up in a Canberra bus interchange) but instead a folk act consisting of two guitar strumming Spaniards and a girl with knitting needles. Once they invoke a witch-doctor to inflict evil upon a less than supportive mosh pit, hilarity ensues…
Flush by Hadley takes the stage. An egotistical critic and a dickhead become stuck in a toilet block together. This is an example of brilliance based entirely between two people and a toilet. The comic timing was perfect, the digs at BMA reviewers were entirely appropriate and running with the overall theme, I almost wet my pants with laughter.
And then, for the moment we've all been waiting for… backstage with THE Dallas Rockwell in the last play of the night: Loose… Ships by Stuart Roberts. I contain the urge to scream in excitement. Dallas doesn't want to mime the words to his songs, the label executive is trying to give up alcohol and his manager is so highly strung he's almost got a pole up his ass. I was so busy laughing I forgot that this is actually a classic example of how fucked the music industry is. God, if only it were as intelligent as the writers of these three witty, well-acted and overall bizarrely brilliant plays. One night only? I would have been happy with a goddamn week!
.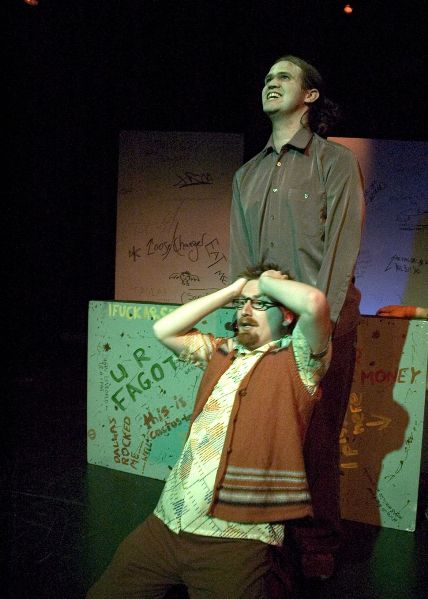 The ghost of Buddy (Jack Lloyd) and Onan (Owen Collins) in Flush.
.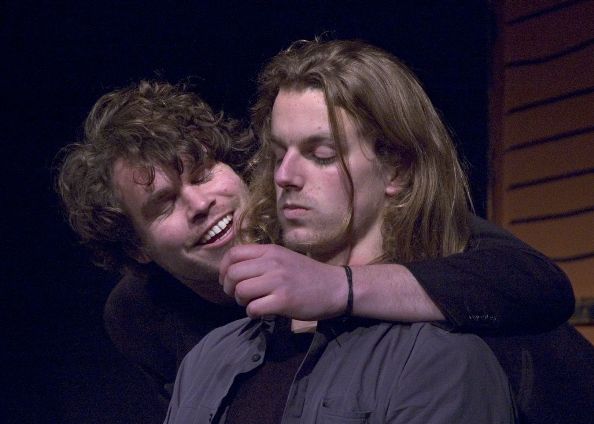 Label boss MS (Matt Borneman) and teen idol Dallas Rockwell (Pat Gordon) in Loose… Ships.
.
Canberra Citynews, September 28th, 2005, by Peter Hayes
One Night Only is three independently written and collaboratively wbonded pieces of local writing, all based around aspects of the music industry. It is also what children of the sixties would call a Happening. The show starts outside with a dishevelled drunk barking ROCKWELL! ROCKWELL! He then proceeds to take a pen to the poster of Dallas Rockwell and scrawl on the rock legend's forehead.
Inside, the buzz was that Sean "Puffy" Coombes, aka Puff Daddy aka P. Diddy aka Diddy would shortly be onstage. No-one was surprised when Diddy wasn't, and in his stead we got the Witchbringers, a gypsy folk trio whose misery laden songs conjure up a demon. The Savage Dancefloor of the title refers to the demon's ability to stop-start motion with the clap of his hands. It is like an acid trip movie where you pick up snippets of conversation, none of which are particularly relevant, but you feel ever so grateful to have overheard a whole sentence that you give it more significance than it deserves. And the groovy dancing is enough to turn the strongest stomach. Naturally enough the demon gets his own back as the piece draws to an end. The devisors are Max Barker and David Finnigan, and they take stabs at pub culture and pseudo-Baltic bands. It's lightweight, but never fails to engage.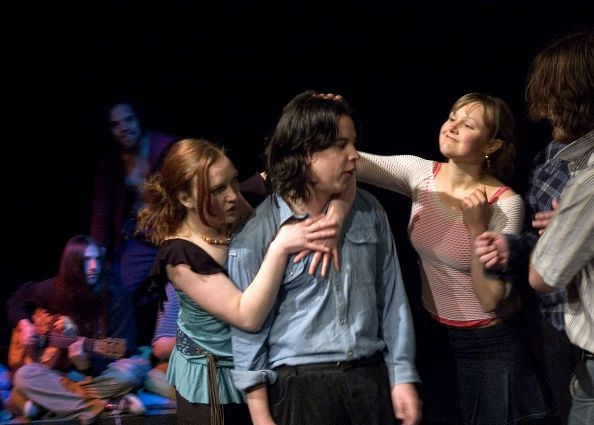 Tara (Petra Elliott) and Beth (Tessa van der Hoek) try to make Christian (Nick McCorriston) feel good about himself (at the command of the evil WITCHDOCTOR!) in Savage Dancefloor
.
Canberra Citynews (cont'd)
The second piece is called Flush, by Hadley. Locked inside a graphically grafittied toilet are Onan Lovechild, a music critic for an irrelevant magazine, and Buddy, a wannabe pop-star. The play between the two is hilarious and the direction by Naomi Milthorpe is spot-on. Owen Collins as Onan and Jack Lloyd as Buddy are in their cups in these roles, working the comedy and pathos for everything it's got.
Loose… Ships, by Stuart Roberts, shows popstar Dallas Rockwell (Pat Gordon) in the midst of a backstage tantrum. His sleazy manager (Arran Mckenna) and half-crazed label boss (Matt Borneman) want him to lipsynch on stage as usual, but Dallas has decided that tonight he will "keep it real" and sing himself. The fast-paced script was capably handed by the actors, but the real star was the lipsynched finale, when a pre-recorded soundtrack took over the actors' voices. Also, the reference to the editor of this publication (The Canberra Review) was hilarious – but the actors are just lucky that I was reviewing and not he!
.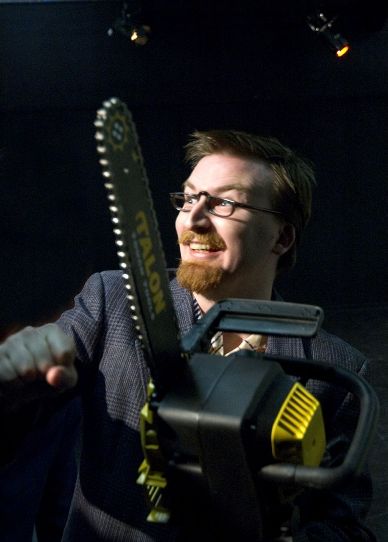 Onan (Owen Collins) in Flush.
.
Personnel
Loose… Ships
Dallas Rockwell Pat Gordon
Sobey Arran Mckenna
Lucy Tain Stangret
MS Matt Borneman
Sound design Dan Jobson, Trav Harvey & Jono Mullins
Writer/director Stuart Roberts
Flush
Onan Lovechild Owen Collins
Buddy Jack Lloyd
Hand/chainsaw Bryn Cummings
Writer Hadley
Director Naomi Milthorpe
Savage Dancefloor
Bob Winston Robbie Matthews
Beth Tess van der Hoek
Tara Petra Elliott
Shane de Shane Johnny Barrington
Christian Nick McCorriston
No-one Jarrod Emmanuel
The Witchbringers Ry, Lucy and Rafe
Lepers/devisors Max Barker and David Finnigan
Those responsible for this whole mess
NUTS Matt Borneman, Erin Pugh, Rachel Teding van Berkout
Producers Alison McGregor, David Finnigan, Muttley
Lighting design Gillian Schwab
Set design Nicky J, Jack Lloyd, David Shaw
Lights Muttley
Sound Ali McGregor
Poster design Dan Jobson
With much and grand support from Linda McHugh and John Hunt of Canberra Youth Theatre.