written by David Finnigan and Jack Lloyd
produced by Bohemian Productions
April 2001, Currong Theatre, Canberra
Directed by Nick Johnson
Featuring David Clapham, Gina Guirguis, Stu Roberts, James Langer, Felicity Pollard, Julia MacDonell, Linton Hartfield, Michael Bailey
Reviews
.
From Danse Macabre, Artsound FM 92.7, Sat 21st April 2001, by Wendy Brazil
"The sinister notes of Death's mistuned violin call the dead forth from their graves, and clad in white shrouds, they flutter round in a demoniacal dance. The quiet of the churchyard is rent by hollow cries and horrible laughter. Suddenly, as if seized by a terrible suspicion, they stop. In the icy wind, Death's notes cannot be heard. A tremor runs through the ranks of the dead. The grinning skulls are turned, as if listening, towards the pale moon." (Henri Cazali)
Finnigan and Lloyd the actors in The Dumb Waiter now transmogrify into the writers of Quiet Time. Five mattresses lie side by side on the floor. One is empty, but the other four are occupied by sleeping forms enshrouded by a white sheet. A name is inscribed at the foot of each bed. Slowly they wake – unknown people in an unknown place and unknown to each other – a blind man, a priest, a chorus girl and a husband. At first all is hazy memory and confusion, but gradually there will be memory and realisation. As actors they are David Clapham, Gina Guirguis, Stuart Roberts, James Langer, Felicity Pollard, Linton Hartfield and Michael Bailey and all have gradually diminishing parts to play and all are well played.
I am still thinking about this play with its Pinter overtones. It intrigues, but it becomes predictable – whereas Pinter is never predictable – and it may need a rethink about the ending, which is over-sudden. However it is a kind of Henri Cazali's Danse Macabre, which is fascinating in its inevitability and its dies irae.
I know not whether this is a first venture for Bohemian Productions, but I have a distinct desire to see more of them – and I think that the combination of an established play and an inhouse play is an excellent concept. But I do know whom they love: barb barnett, George Huitker, Anne Somes, Stella Wilkie and all their family and friends, except Tim. I have to wonder what Tim did to be so publicly excluded.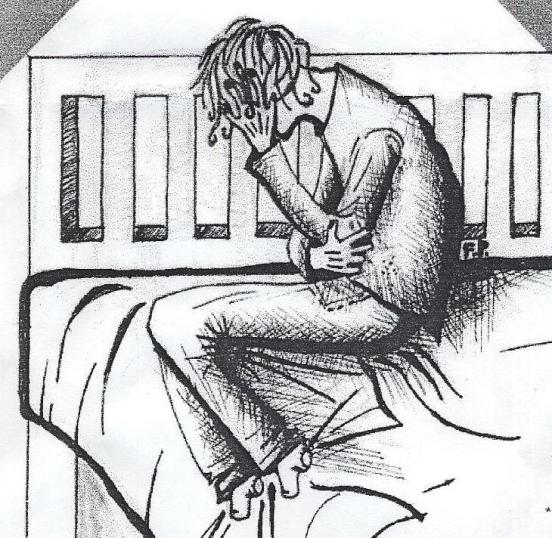 poster design by Felicity Pollard
.
from Lowdown Magazine, June 2001, by Estelle Muspratt
'Quiet Time', a new piece written by David Finnigan and Jack Lloyd, was far from quiet. Four people wake up in a room with five beds, at the foot of which is their surname written on a tag. The lifeless body of a young girl whose name plaque appropriately reads Dellamorte fills the fifth bed. The ensuing confusion – and exposition of character and scenario through finding out who they are, how they got there, why they're there and why there's a dead body – unfolds lineally, as each of them are removed, only to return minutes later dead. Or are they already dead and suspended in a waiting room between heaven and hell? I wasn't sure.
Without a doubt there are some strong performers in this company. Stuart Roberts, as Sater, was a necessary keeper of the piece until his time came while Gina Guirguis as Malkin had a great deal of vocal strength but struggled to maintain character and focus throughout. David Clapham as Mott shared Guirguis' vocal strength without the focus problems, but less is more and again screaming can carry a messy message rather than a clean story. The focused and truthful performance of James Langer, as blind Drake, impressed with both a devotion to the narrative and the other actors on stage.