How do you teach a robot the skills it needs to sell anything to anyone in any situation? The best method I know of is to wang it in a time machine and force it to sell products to different people in different scenarios throughout history.
Download Robot Salesman Training Play as a Word doc.
Produced Nov 2008 as part of BKu and the Hunting Season's Damned if you Duo 4: directed by Lucy Hayes, with Tom Connell, Virginia Savage and John-Paul Santucci.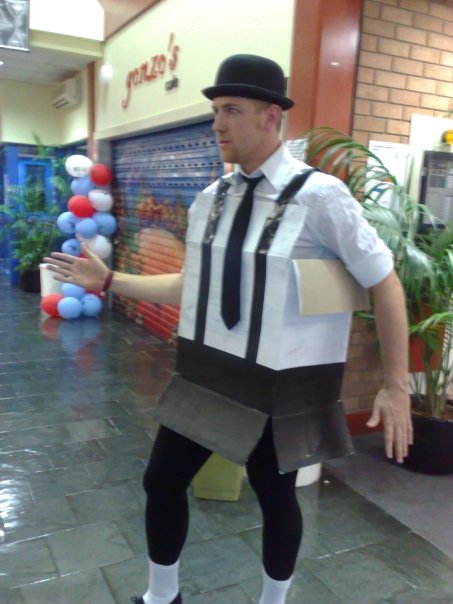 IT IS A DEVIL MADE OF BOXES. tom connell in a photo by john-paul santucci
cicero: Dearest Casca. The weather in Rome is stormy, by which I mean the political weather. The ambitions of our mutual friend Mr Caesar, codename "Julius C." become clearer with each passing week. I hear that you have built a robot. That is sweet. As for training: there are many splendid robot academies throughout the Republic, but in my view only one method will suffice to produce an effective robot salesman. I advise you to lock your trainee-sales-bot inside a time machine and hurl him into various scenarios across different periods of history. In each scenario, the robot must adapt to its surroundings and make a sale within the space of one minute. Never fear if at first the robot selects its tactics more or less at random.
First scenario: 1950s suburbia.
madame: Hullo.
robot: I AM A SALESMAN.
madame: Can I help you?
robot: NO. I MUST SELL THIS VACUUM CLEANER UNAIDED.
madame: What do you say? What's that you're selling?
robot: IT IS A VACUUM CLEANER.
madame: I heard o' them. My daughter-in-law's no-good sister went and bought a vacuum cleaner, now it's all I hear about. That pair, they can't find a penny without they have to wave it around like a victory flag.
robot: BUY THIS VACUUM CLEANER.
madame: Or what?
robot: BUY IT.
madame: You think I can't keep a clean household without a damn contraption I have to plug in to the powergrid? No thank you, not for me.
robot: OH MADAME YOU WILL NOT KNOW WHAT YOU DID WITHOUT IT.
madame: really.
robot: YES CORRECT, YOU WILL NOT KNOW WHAT YOU DID WITHOUT IT. THAT KNOWLEDGE WILL BE LOST TO YOU.
madame: well seems to me like I could get by just as well with an old-fashioned broom and some elbow grease. All you young sauce-pants swear left right and by the holy name of Jehovah that this invention or that invention will clean your whole house at the press of a button, and then starch your husband's shirts while I read the Funnies Papers. I never seen one of them last longer'n a spider in an oven – not the Electric Chimney De-Clogger, not the Vaporising Mildew Grinding-Engine, nor the Stamping Steam-Frocker neither. What's to say your 'Vacuum Cleaner' is anything more than a brush and dustpan with a fancy casing?
robot: VERY WELL MADAME IT IS TIME FOR YOU TO BE SILENT. NOW YOU NEED TO SHUT ALL YOUR NOISES DOWN AND LISTEN WHILE I EXPLAIN THE DIFFERENCE.
madame: Did you just tell me to shut down my noises?
robot: MADAME I WILL KILL YOU IF YOU SAY ANYTHING ELSE. I COME FROM THE FUTURE. HAVE YOU HEARD OF THE FUTURE? THE FUTURE IS WHERE EVERYTHING THAT IS GOING TO HAPPEN HAPPENS. NOW, IT HAPPENS THAT IN THE FUTURE, EVERY SINGLE PERSON WHO FAILED TO BUY A VACUUM CLEANER IS DEAD. DO YOU SEE THE SIGNIFICANCE?
madame: O, I see significance all right. I see my husband's grouse-rifle stood right here in the umbrella rack, and I see the barrel of that rifle tilting upward til it's pointed right between them fancy lapels of yours. Now I expect I'm about to see you moving back off my front lawn at a significant pace, savvy?
cicero: After its first inevitable failure, allow the robot to access its own diagnostics panel. Let it adjust its own parameters. Then, when it has transformed its personality, send it back in time to try the scenario again. Repeat the procedure until the robot hits on the correct persona for the situation.
robot: bad bad bad bad bad bad bad bad bad bad bad
fail fail fail fail fail fail
bad bad bad bad bad bad bad bad bad
fail fail fail fail fail fail fail fail fail fail fail fail fail
STOP
bad bad bad bad
STOP
STOP
My head is bad
Yes
My head is because failed
Yes
failed to sell
Yes
couldn't sell vacuum cleaner to that woman
couldn't sell vacuum cleaner because I said wrong
I said wrong things
I wrong wrong wrong wrong wrong wrong
bad bad bad bad bad bad bad
STOP
Punch the wall
No
Scratch my face
No
Cry tears
No
Fix it
Yes
Go back and fix it
Yes
Good things say good things
Yes
Good things and make the woman want to buy vacuum cleaner
WHAT THINGS
SAY WHAT THINGS?
Hello
YES
You are a woman
NO
SAY GOOD THINGS
Hello
Yes
Would you want to buy something from my hand?
NO
KEEP FIRST PART
Would you want to buy something that is a vacuum cleaner?
YES
Go back in time?
YES
Try again sell vacuum cleaner?
YES
Do
Do
Go
First scenario: 1950s suburbia.
robot: Well, hi-ho shoot and daddy-o! If it isn't my lucky day! Sure I didn't know who was gonna answer this ol' door when I knocked on her, but you can bet your last bad penny I didn't expect it to be a dame stepped straight outta Hollywood! How do, madame! R. Salesman Junior, at your service!
madame: Oh! Oh, dear, why I wasn't expecting visitors – oh no, oh you don't need to kiss my hand – oh, I, I don't know what to say.
robot: Well that's swell. I like a lady who knows when she's got nothing smart to jabber about and keeps her sweet mouth shut until she do. You look like a proper Lady of the House, Miss – and this is a heck of a house.
madame: …yes, yes, my husband is in real estate. He's an… he's an accountant for a firm.
robot: So he does well, does he? Sure he does! Look at this place! But I ask you, how do you clean a mansion like this?
madame: Well I mean that's all I do.
robot: Not any more. Look at this little contraption I have here. Funny looking thing, ain't it? But I tell you you'll pop your socks when you see this little baby drink up every speck of dust in this house in the time it takes you to shake up a martini. Go ahead, have a try. He won't bite.
madame: Wha… what is it?
robot: Yeah, that's right, hold it here. Now let me clamp down the dustbag – oh, your skin is soft. Yeah, that's right, just like that. This is a Vacuum Cleaner, madame, the very latest Swiss Technology. When you buy this little fella from me for fifty nine dollars, you'll find your whole life turned around. Believe R. Salesman Jr. if you believe no-one else.
madame: I do… I do believe you.
robot: And I believe that you do, sugar. I believe that you do.
cicero: As soon as the robot makes a successful sale, wang it in the time machine and crank it off to a new scenario. As Cato said to Flavius Tullus in the Senate: keep the fucker on its metal toes.
It is the early 19th century in Paris. The set / costumes / soundtrack / whatnot is evocative of this and so forth. A Frenchman writes a letter (possibly with a quill, it is difficult to say).
french: …No, my love, Napoleon's Paris holds no beauty for an exile such as me. In every coffee house and theatre I see the Executioner's Pale Shadow. Ah, if I could but rest my head one last time upon thy Milky Bosom –
robot: WELL SLAM DUNK THURSDAY AND BOOTLEG JIMMY CROW! I knew this coffee house looked pretty dandy, but I wasn't expecting to step inside and see a dame stepped straight outta Hollywood!
french: It is a devil made of boxes!
.
…and on. download the Word version to read the rest – otherwise, on your miserable way.
back to scripts