back to bio
produced by Bohemian Productions
written and directed by David Finnigan
Currong Theatre, Canberra, September 2001
Featuring Jack Lloyd, David Clapham, Gina Guirguis, Stu Roberts, Steph Brewster, Nick Johnson, Kirsty Ellis, Stef Dawson, Ben Hamey, Nick McCorriston, Michael Bailey, Chris Finnigan, Kim Gorter, James Langer, David Shaw, Rob Graf, Andrew Brightman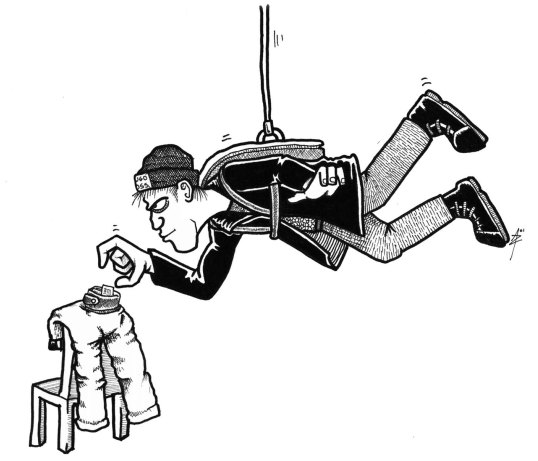 image by Arran Mckenna
Review
"Script fails in tilt at irony", Canberra Times, September 18th, 2001, by Alanna Maclean
Good to see the young and enthusiastic Bohemian Productions at it again with a new play in the Currong.
A pity, then, that The Mischief Sense does not quite hit the mark. The title seems to invoke the Norse trickster god Loki and the piece strives to be a kind of crime comedy of manners, but this ambitious enterprise falls down in the doing. The actors battle with a wordy, lengthy script, a lighting design that sometimes has them in total darkness and a lot of furniture to lumber about for set changes.
This kind of piece doesn't need the trappings of realism. It does, however, need to find a strong visual style. Browns and blacks and shy performances that need to play more directly to the audience will not carry something which feels like a mixture of Mission Impossible and The Lavender Hill Mob.
It is great to see a young writer at work but the script needs some urgent dramaturgy. And the company has to toughen up its design, directing and performance skills if they want to communicate the sharp and ironic kind of theatre that the script seems to be struggling towards.
I ended the evening lost and confused, seeing glimpses of wit and good ideas smothered.
.
I actually kind of appreciated this review. It was somewhat disheartening but dead-on accurate. -Finig
.
back to bio