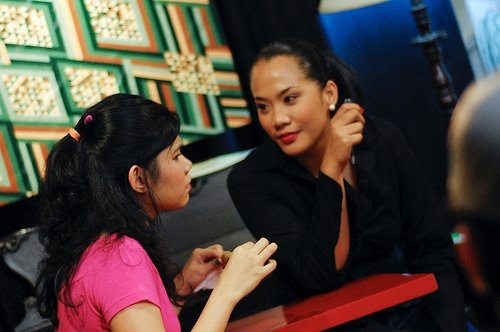 Isabelle Martinez (Christine) and Nina Rumbines (Onie) in Sipat Lawin's 2009 production.
Written in 2006 in the Philippines, during my Writer's Residency with Tanghalang Pilipino. Working with director Issa Lopez and a group of actors, we workshopped and experimented with the idea of a performance exploring the lead-up to a kiss… What do you think and feel in the moments before kissing someone else for the first time? How does a kiss come about?
To heat you up and cool you down (usually known as thucy) is set in a restaurant during rush hour. Waitresses Christine and Onie take orders, make drinks, serve food and talk, but behind their conversation is a fragmented jumble of thoughts, desires, emotions, impulses… the conflicting impulses within Christine and Onie's minds are personified in the play as distinct characters.
Thucy's cast (all female) can be as large as seven and as small as two. The play runs for approximately 30-35 minutes and is free to perform, so long as you make sure to email me first and give me a heads up.
Download To heat you up and cool you down.doc

Thucy is my popular script to date. Since being written in August 2006, it has been produced on four separate occasions by different companies. To whit:
Tanghalang Pilipino, September 2006
Chunky Far Flung Cafe / Gallery, Cubao Ex, Manila, Philippines
Directed by Issa Lopez
The National Multicultural Festival, February 2007
Belconnen Theatre, Canberra
Directed by Max Barker
Heidelberg Theatre Company, January 2008
Heidelberg Theatre, Melbourne
Directed by Caesar Cordovana
Review: A deep, provocative and sensual play exploring the trials of love, lust and death in a luxurious restaurant.  A series of internal monologues conveyed the inner torment of three waiters coming to grips with their sexuality and attraction towards each other.  The fantastic use of lighting, costumes and movement swept the audience into the emotional turmoil of understanding the mysterious laws of attraction under society's watchful eye.  A provocative kiss, a ghost-like girl and whispering voices of the mind culminated into a moving and fragmented journey into human love.
– Susannah Rowley, Prompts Magazine, Feb 08
Sipat Lawin Ensemble, February 2009
Penguin Cafe / Gallery & Bobot's Place, Manila, Philippines
Directed by Kristine Balmes and Sofia Gonzales
Images from Sipat Lawin's production: