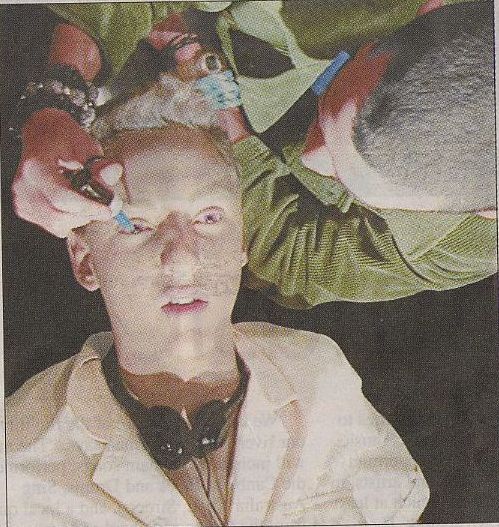 Benjamin Hamey as Annon Caesar and Jack Lloyd as Monty Coven in w3w3
January 2003. Bohemian's sixth production was a double-bill of George Huitker's Spitting Image, directed by Nickyj, and w3 w3lcome the future, directed by myself. w3w3 went through a few incarnations in the few weeks between it being written and it being staged. First it was a one-off piece set in a newsagents', then it grew to be a ridiculous grab bag of sampled texts taken from a huge swathe of writers. At last a narrative grew out of that collection of samples, and a road trip story was grafted over the top of it.
Nevertheless, it was fairly criticised for stealing wholesale from other writers and not crediting them properly. A quote or a reference is cool, but this was a few steps away from being a pastiche of other people's work. For which I am sorry. But on the other hand, this is still one of my favourite pieces, something that failed horribly to attract any audience (or any sympathy from the audience that did see it) but let me play with a few of the ideas that scratch at my brain constantly.
Personnel
Monty Coven – Jack Lloyd
Annon Caesar – Benjamin Hamey
Mrs Caesar – Nick McCorriston
Dr Jerome – Chris Rooks
Mr Engine – Chris Finnigan
Adolf Hitler – David Shaw
The GURU – Sam Burns-Warr
Stage manager – Kim Gorter
Lighting – Andrew Brightman
Sound – Gabe Sheehan
Slides – Tim Martin
Poster design – George Craig
Set design – Rob Graf and Kim Gorter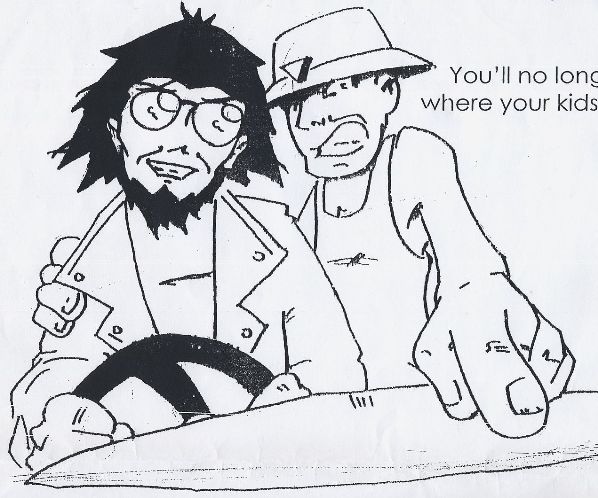 poster design by George Craig
We We3c60e the f4t4re
the original. Harold stops into the newsagents' before leaving for seminary school for one last chat with his beloved Anna… I scrawled in one awful hit some night in 2002. The computer screwed up while saving it and turned half the letters in to numbers – an innovation which I approved of and promptly exapted.
We Welcome
a disconnected stream of sampled pieces, featuring extracts from John Buchan, Brian Stableford, Tad Williams, Brian Aldiss, Jeff Noon, Jack Kerouac, and Seasonal Records by senor Nickamc. Eventually one of these pieces (Stigmatica by Jeff Noon) formed into the narrative spine of the play and the rest of the pieces dropped off or fashioned themselves around this new skeleton, resulting in
w3 w3lcome the future
The script as it was performed in 2003, including the reinclusion of Trombone, a part which had to be absorbed into the Hitler character due to Mick Bailey being the Man Who Hates Fun.
.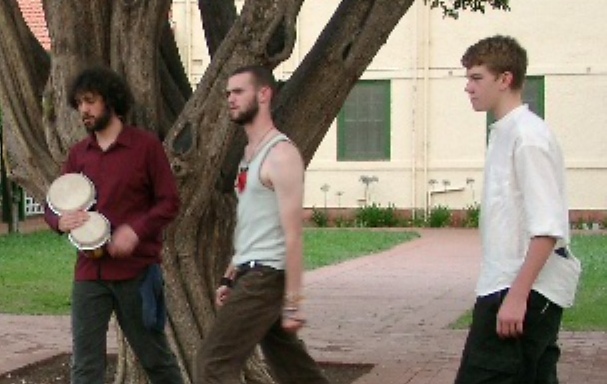 Muttley as former warlord turned travelling blind organ salesman and mystic Adolf Hitler, Jack Lloyd as diseased criminal Montgomery Coven, and Sam Burns-Warr as Canberra's Guru, warming up before w3w3
Review
These two short plays make an interesting comparison; one with its anarchic and surreal vision of the future and the other based in the reality of simple relationships. We welcome the future is a vigorous and brave attempt at showing that nothing much changes in the future – even petty crime is the same. There are nice images in this play, but it still needs a lot of work. The simpler the text and idea, the more difficult it is to create an economic script. This text seems to include every idea that popped up. Slash and burn and dramaturg like mad and this could be a good little play.
Stella Wilkie, Muse, March 2003
.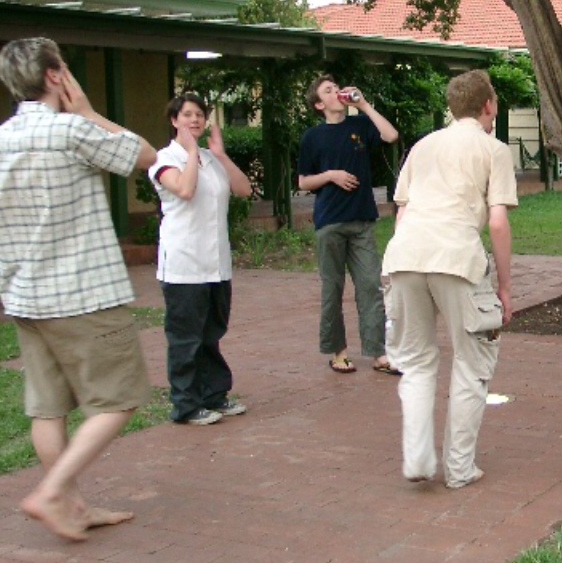 From left: writer (kinda) / director David Finig rubbing at his facial sores, Chris Rooks as master chef Trimalchio, Chris Finnigan as the weary grinding motor Mr Engine and Benjamin Hamey as pure-of-heart fungi devouring protagonist Annon Caesar in w3w3 – photo by Nickamc, who also played Annon's charming and deluded mother
.