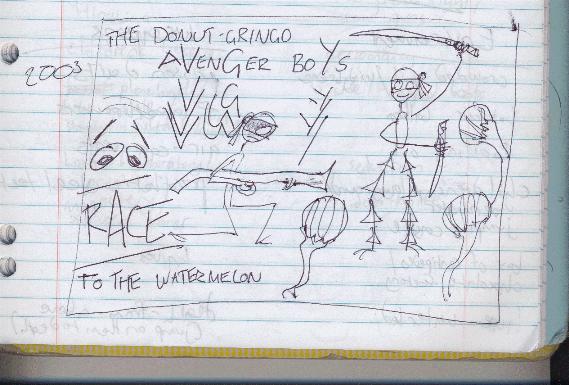 .
The Avenger Boys' third album is a hard-hitting, inflammatory document exploring racial issues. Race to the Watermelon brings the potent destructiveness of The Man Who Hates Fun to the forefront, while still featuring some dizzying moments of mystery and sensitivity from the Fun Who Hates Man.
Still a fan favourite, Watermelon features songs such as Intruding in my bathroom and Religious Memes Are Very Simple, which have become staples of the Boys' live set. The album closes with 89 minute CD player destroying epic No Donuts For Black People, I'm Afraid, which renders the CD unplayable in almost all standard players and has yet earned second place in The Wire's Top 5 Closing Tracks of All Time listing.
.
Tracklisting
1. Don't panic about the nation state
2. Handle global entities
3. Intruding in my bathroom
4. The need to have a war on poverty
5. The superiority of the nation-state meme
6. Empty niche
7. Bag a big rhino made of lego
8. Religious memes are very simple
9. Good suicide and cluster bombs
10. This always happens
11. Intruding in my empire (reprise)
12. Donuts for whites only I'm afraid
.