word. Last forty-eight hours, I've tidied up and extended out the blind sounds segment of this website and created separate pages for the collective, the Donut Gringo Avenger Boys, my collaborations with Boysam and Grahame, and my solo radio mangling.
In particular, the collective page has new music uploaded from our recent performance at the State of Belonging event at the Street Theatre on Saturday 25th August. We scattered ourselves across the theatre foyer – Nickamc up against the studio doors, Reuben and Chris on the stairs to the main theatre entrance, Max running crazy errands to and from the supermarket throughout the whole gig, and Ely and myself in the cafe respectively cooking delicious crepes and projecting (mostly invisible) images. There was a six month old girl in the crowd who understood what we were on about – and one six month old per gig is just about enough.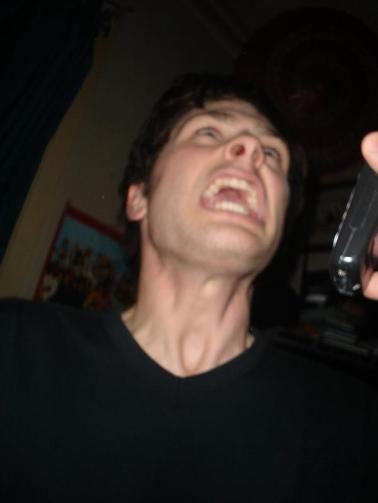 Our next performance is tomorrow night at the Front Cafe / Gallery, as part of the first ever TURBO Poetry Slam. Chef Ely cannot be there, unfortunately, so we've brought in Stalin-esque replacement-chef Funky Squad. Visit the Front Cafe in Lyneham this Friday 31st (7:30pm, Lyneham Shops, Canberra in the Australie) and you will witness this performance unfold like a colossal and unbelievably intricate origami structure.