I was listening to the Prodigy's first album from 1992 and running late to Free Rain's The Shape of Things at the Courtyard Studio and sprinting down towards the theatre and my headphones telling me
Bitches
Hyperspeed
I got the beat I got the beat and that's
all we need
Which you probably don't think is that clever but I think it's fucking on the money and with that difference between us in mind, I can say that you probably really enjoyed or would enjoy The Shape of Things but it made me angry. This is a production directed by Soren Jensen, one of the murderers behind Nineteenth Hole Productions, which kicked into life in the same filthy month in 2001 that Bohemian Productions was born, which makes him as close to a contemporary of mine as anyone else in this world, produced under the aegis of Free Rain. The Shape of Things, written by some yankee named Neil Labute, follows two relationships between four university students in some small town until both the relationships stop, by which time I was ready to find LaBute and punch him in the mouth.
What's wrong with the script? Well I didn't realise this until afterwards, but the two main characters are named Adam and Evelyn. Intriguing, isn't it? What do you suppose that symbolises? I'm going to go out on a limb here and say that it symbolises absolutely fucking nothing, that LaBute put it in the script because he wanted to appear clever, and that same vapid smugness infuses essentially all of the script. Which is, without ruining the plot, a series of dialogue driven encounters in such wild and diverse locations as: a restaurant, a cafe, a pub, and somewhere which didn't appear to serve drinks but had a table and chair and was probably a park bench. In most of the scenes, a friendly and casual exchange built up into an emotion driven outburst, occasionally with raised voices, possibly punctuated by a pause or two.*
So far it would seem that I am essentially criticising this play on the basis that it is a play, but of course this basic palette can be twisted and stretched into quite wonderful shapes. LaBute's difficulty in transcending the most basic staples of his form seemed to lie in the fact that he had literally no ideas. It's almost a miracle in itself how a full-length script can manage to carefully swerve around any semblance of a point, unless the point was meant to be that it's mean to ruin someone else's life for no reason.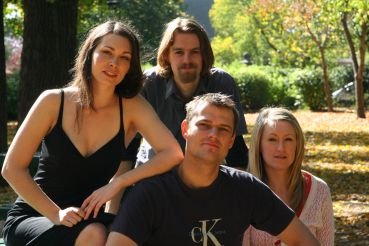 The Shape of Things cast