Myself and the other subversives of Bohemian Productions have returned to the Cancers after a week's tour to Brisbane, presenting A Prisoner's Dilemma as part of the Brisbane Festival's 2008 Under The Radar fringe program. It were grand fun; hanging out in Brisbane's CBD at the Metro Arts Theatre along with 25 other companies and collectives, and showing APD off for one final season before putting a bullet in the back of its neck. We had good audiences – not large, but not too small – and they racked up exceptionally high scores on all the interactive games.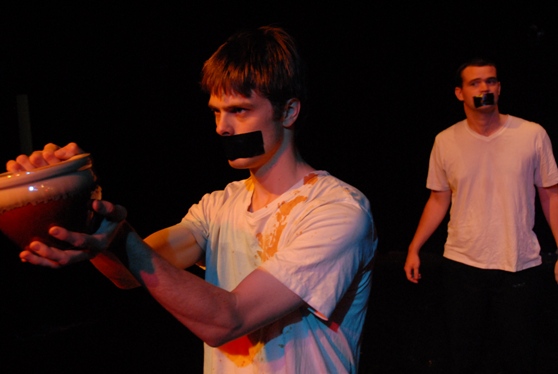 the game of Chicken in A Prisoner's Dilemma. photo by 'pling
.
Weird detail, though: the show finale is an interactive example of the game of Chicken. (Two kids drive their cars towards each other. The one who swerves first is the loser, but if neither of them chicken out, they hit each other head on and they both die.) We play with a bowl full of 14 stones, which we invite the audience to take out. On average, audiences take about 7 stones. In Brisbane, we didn't get past two. Half our audiences refused to take a stone after only one turn (the best possible outcome), and the other half drew the black stone first or second turn (the worst possible outcome). There's no reason behind it (that we know of), but if you check out their scores on the Statistics page on Bohemian's website you'll see what an anomaly it is.
Shall type up some of the highlights of the Under The Radar festival in a short while – post's 'Gifted and Talented', Fleur Elise Noble's 'Work in Progress', Tom Hall's 'Sight Beyond' and Mrs Freeman's Dry Cleaning's 'Szentpaly' were standout, and deserve more discussion.
still from Johan Grimonprez's Dial H-I-S-T-O-R-Y
.
Meantime, this was completely unrelated to the Festival, but absolutely stunning: Johan Grimonprez's 1997 film Dial H-I-S-T-O-R-Y. We caught a screening of this at the Judith Wright Contemporary Art Space and were completely entranced. It's a documentary / film collage exploring the phenomenon of plane hijacking in the 1960s and 70s: the era of 'Skyjackers'. I won't attempt to summarise, interpret or analyse the film's politics, artistic agenda, or David Shea's funky soundtrack (for fear of sounding like the other horrible reviews I've found online): Just go to UBUweb Film and Video and check it out.