Things are restless jiving here. As of very recently, I am performing this Thursday 25 as part of the Dirty Poppet Picture Show, an evening of cabaret in Glebe (Sydney) put on by Jane Grimley and squad of the DeConverters.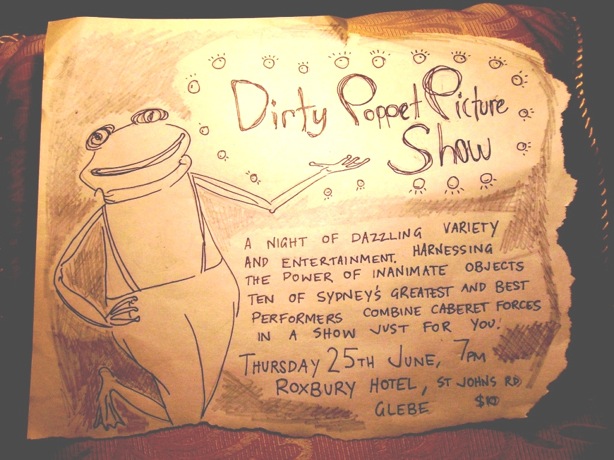 do not google the words 'dirty poppet picture show'
The DeConverters are presenting their show Witness in the Wall as part of the Crack Theatre Festival (which I am co-directing) at This Is Not Art, which will be radical. In the meantime, do as the frog above suggests and come to Glebe this Thursday night.
On a different but similarly splendid note, I have been summoned in to do some performing for Anino Shadowplay and Paschal and Valerie Berry's Within and Without, which is currently in development at Performance Space in Carriageworks. I don't know if I can really get this across without sounding like a maniac, but THEY HAVE BUILT MANILA. This morning I got to sing kareoke on Remedios Circle.