Oh! Hullo! I didn't expect to see you here at the top of the ski slopes! I was just about to take a spin down the hill on these old skis my daughter lent me. Hope I make it down alive! But it's funny how these things can make you think… When I strapped myself into these skis, I was reminded of an old Proverb from the book of Acts: 'YOU HAVE NO SHARE OR PART IN THIS MATTER, BECAUSE YOUR HEART IS NOT RIGHT BEFORE GOD.'
So the Crack Theatre Festival has finished, and applications for the new co-director position are open! Get there, get there and download and apply to direct the 2011-12 festivals. Application deadline is November 15: DO IT NOW.
Right now my life would be gradually returning to normal if there were a normal state for it to return to. Instead, my future has opened up before me like an enormous sack full of faces quietly gibbering and flapping against one another, and I have no ideas. But whatever.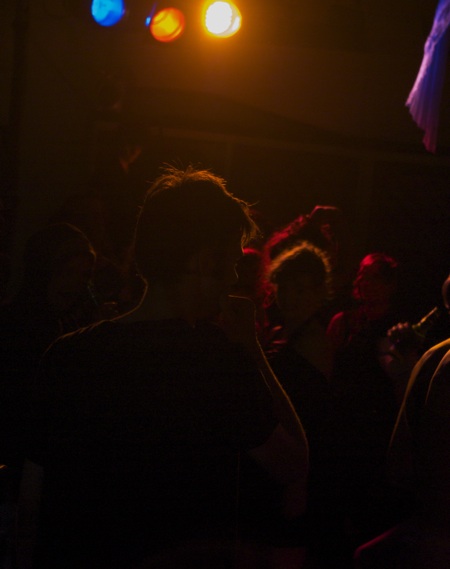 finig at crack. img by Holly Orkin.
More important things! So Tobias and Glyn's new writers theatre the MKA Richmond is opening in a couple of days, and for the first month they're doing back to back playreadings every night of a swathe of radical Australian writers. My 22 Short Plays is up for Friday 5 November, if you're in Melbourne – or more precisely, if you're in Melbourne and you want to see it. Glyn Roberts' The Horror Face (which I am currently reading and it is beautifully fucked) is on Saturday 6, and I think the season concludes with Toby's Dogmeat, which just won the St Martins' Playwriting Prize. So it would seem that all is well in this world. Click on a link for more information.
Next more important thing! On Tuesday 16th and Thursday 18th November in Sydney, The Masters of Space and Time will be presenting Swamped: Up to your Arse in Alligators at the Australian Museum. Set in Melbourne in 1866, Swamped is based on the real-life Victorian Acclimatisation Society, a group of academics and landowners dedicated to 'civilising the savage bush' by introducing as many European species to Australia as possible. As the Society prepares to unveil their latest triumphant acquisition at a gala event featuring the cream of 19th century Victorian society, one tiny oversight in their planning triggers a series of increasingly catastrophic disasters.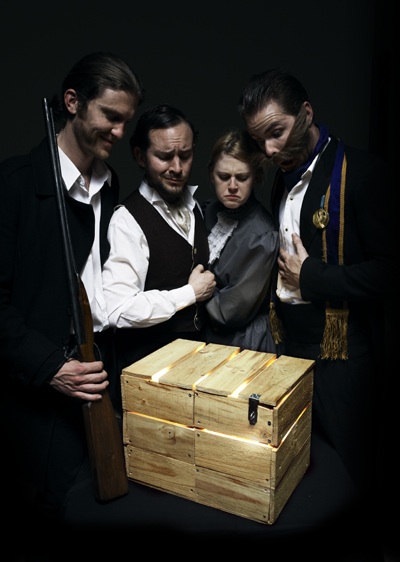 The Masters of Space and Time – if we needed to photoshop out any imperfections we would, but there are none to be seen.
Written by Stuart Roberts and produced by Melbourne's The Masters of Space and Time, Swamped combines live music, multimedia and classic drawing room farce into a savagely funny critique of scientific hubris as part of the 2010 International Year of Biodiversity. Following a successful premiere season in Newcastle as part of the Crack Theatre Festival, Swamped is coming to Sydney for two performances only in the Australian Museum's Skeletons Gallery. Crack commissioned this play and I'm producing it, so I'll be up in Sydney as well, guiding it along with my fatherly hands. It will be RAD. Information and booking details are hidden behind one of these links.
Lastly, Gillian and barb and I are producing a new short work under the aegis of barb's company serious. It will be a 25 minute piece with me doing words, Gillian doing live illustration and lo-fi projected visuals, and barb directing / dramaturging. We're performing in the 2011 New Zealand Fringe Festival in February and the Adelaide Fringe Festival (alongside Senor Hadley) in March. All we know so far is the title of the work, and I invite you now to take a deep breath before reading on:
This Is Patient Zero: A Christian Guide to Sexual Intimacy.