THE PAST: just spent the week in Sydney with The Masters of Space and Time, producing their show Swamped: Up to your Arse in Alligators at the Australian Museum. Commissioned by the Crack Theatre Festival in partnership with the Aust Mus and the Council of Australian Museum Directors as part of the 2010 International Year of Biodiversity. It was beautiful – Stu Roberts' razor-sharp Victorian farce in the Skeletons Gallery after work with drinks, food and a 150 year old stuffed agouti. Nickamc came up from Melbourne to do lights and sound, and also performed a gorgeous live DJ set of biodiverse tunes: Syd Barrett's Effervescing Elephant + Boards of Canada's Peacock Tail makes me happy.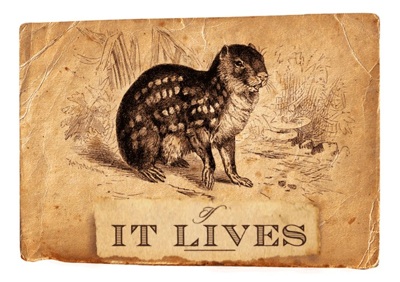 Star of the show, the Brazilian agouti. Image by MOSAT.
Anyway, back in the Cancers and about to get to grips with my next big project (producing a festival in Canberra in March 2011 in the lead-up to the 2013 Canberra Centenary), but first: some scriptage.
Working with MOSAT as commissioner/producer for Swamped, and now getting my teeth into the glorious world of Epidemiology for my February 2011 show with barb barnett and Gillian Schwab This Is Patient Zero: A Christian Guide to Sexual Intimacy, I have been enjoying the experience of creating theatre around science topics. In honour of that impulse, I want to post up a few pieces of script which tackle science in different forms. Maybe these should all be gathered together into some kind of compendium: The Compendium of Some Scripts about Science. But for now, here they are as separate animals.

image by frosty.
world creates itself.doc
This is a short monologue which describes how the earth and the moon first met. This was never meant to be a stand-alone piece, but I tore it out of my notebook during a tie-breaker situation with Omar Musa at the 2008 ACT Poetry Slam, and it worked well enough to get me through to the National Finals. I've since performed it as a part of solar system play with Finnigan and Brother live on FBI Radio's Sunday Night at the Movies – but here it is in raw, distilled form. AND IT'S ALL TRUE. Top that. 1 performer, 5-6 mins.
network play.doc
An experiment in applying the tools and techniques of Network Theory to live theatre. 5 nodes are mapped out on the stage. The audience select two nodes to connect, and the link between them is a scene. There are 10 links in total, and the audience help to determine the order in which they occur, unraveling the tale of a kidnapping as they go. 3 performers, 15-20 mins.
petrol station play: the tower of generate and test.doc
Late at night, the lone attendant of a petrol station is unaware that a pair of bloodthirsty vampires are preparing to ambush and murder him. However, rather than just attacking the station directly, Manson and Bekken use the opportunity to discuss and demonstrate the key concepts behind philosopher Daniel Dennett's 'Tower of Generate and Test', a thought experiment which explains some of the features of nature's more complex and sophisticated organisms. One of the more fascinating ramifications of Darwinian natural selection represented by an undead assault on an innocent young man: two great tastes that taste great together. 3 performers, 15-20 mins.