So we're building up to some kind of new year, then? An explosion, presumably, or the North American and European tectonic plates will suddenly start pulling away from each other faster than usual, and the seam that runs down the centre of the Atlantic ocean will deepen and delicious globs of molten rock will spurt out into the shipping lanes and blast winter out of the sky forever. Until then, I guess we've got a little while left to gaze at the bloodshed and carnage that was 2010. Personally, I'm going to watch this video of highlights from Boho's July production of True Logic of the Future and reflect upon the show.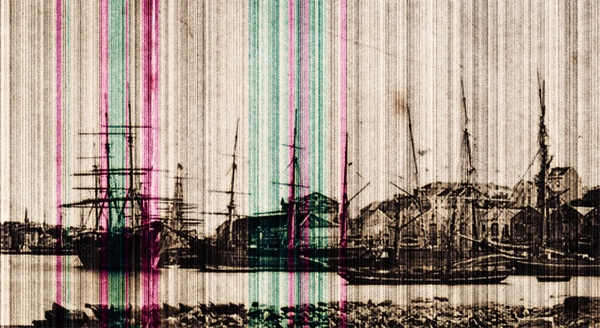 from an image by w.s. jevons.
True Logic was the third full-length show by Boho, the interactive science-theatre collective I formed in 2006 alongside Jack Lloyd, Mick Bailey and David Shaw. After creating the Pinter play/live video game mash-up that was A Prisoner's Dilemma (2007-8), we wanted to explore the possibilities of interactive performance and leave behind traditional theatre venues and forms. Over 2008-9, we produced a series of short site-specific performance installations testing different forms of audience interaction, culminating in our site-specific re-imagining of Australian history Food for the Great Hungers (2009) at the Manning Clark House Cultural Centre. Hungers completely transformed our understanding of audience interaction and made us aware of a whole new range of possibilities and difficulties in our field. The next step was to take those lessons and apply it to the traditional narrative theatre format we started out in.
True Logic of the Future was the result of a 9-month residency at the Belconnen Arts Centre in Canberra, starting in September 2009. Our aim was clear from the start: we wanted to use the tools and techniques we'd learned creating interactive performance installations such as Hungers to create a piece of interactive narrative theatre. Not a choose-your-own-adventure style show where the audience's input is limited to multiple choice selection between different branching plot points; we didn't want to waste energy creating 64 alternative scripts, 63 of which the audience would never see. Nor, however, did we want a show in which the audience's contribution was tokenistic and meaningless, or affected only insignificant details about the world.
The first months were spent researching different forms of interactive performance and consolidating our own experiences of the last few years into a kind of manifesto, a framework which we used to create and then assess new concepts for scenes and games. I was away in Sydney until the beginning of 2010, and when I returned Muttley was offered a superb full-time job and had to step out. Mick, Jack and I brought on three new collaborators: director barb barnett, designer Gillian Schwab and performer Cathy Petocz, and we began to formulate our initial ideas and script pieces into an actual performance.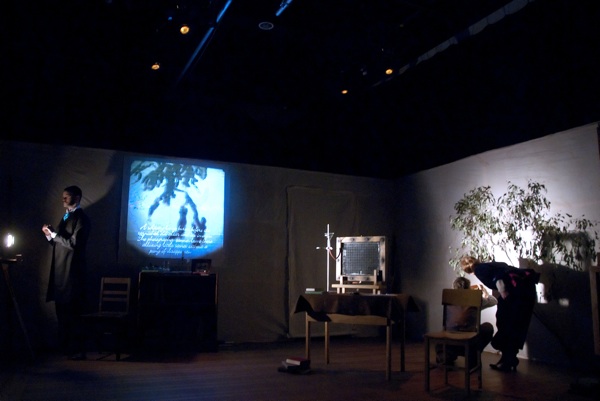 gillian schwab's set was totally sci-fi jevons. image by 'pling
.
The show was co-commissioned by the Powerhouse Museum in Sydney, to accompany their exhibition on 19th century scientist and polymath W.S. Jevons. Although the show was deeply inspired by Jevons and infused with elements from his life (including custom-designed replicas of his inventions including his cloud chamber and the 'logic piano', a primitive computer), True Logic evolved into a science-fiction parable for our world in the 21st century. In an Australian city some years from now, an escalating crisis has driven the government to desperate measures. Unable to prevent or manage the consequences of climate and global change, the ruling body makes the decision to hand power over to a new form of government entirely. The play follows journalist Jen Howe and bureaucrat Alex Moore, and their face-to-face encounter with the city's new ruler in an online virtual environment.
True Logic was hard, hard work to put together – there were so many pieces to the puzzle to get right, so many challenges we'd never faced before, and no shortcuts or easy answers to any of them. How do you write or rehearse a scene in which each performer might be playing one of two completely different characters in totally different settings, depending on which key an audience member pressed on a giant 19th century calculating piano? How do you perfect a scene in which the performers get caught in looping dialogue until the audience stamp their feet and activate the contact mics on the floor, sending a signal to the lights, which flash a signal to the performers and jolt them free of the loop? Well, now I know. But I didn't before.
The play worked: extraordinarily well, in fact, far better than we could have hoped. Reviews were positive, audiences engaged with both the puzzles and the ideas contained within the work, and the production values were a significant step forward from any of our previous works. In large part, this was thanks to the extraordinary talent and commitment of barb, Gillian and Cathy, who dedicated so much more to this work than we could have possibly asked of them.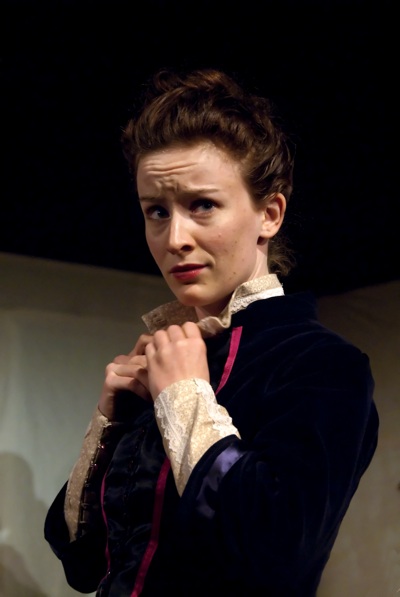 cathy petocz as journalist jen howe. image by 'pling
.
Short break for Boho for the next few months, then: well, then. But last of all, check out the highlights video. I Am Proud Of This One.