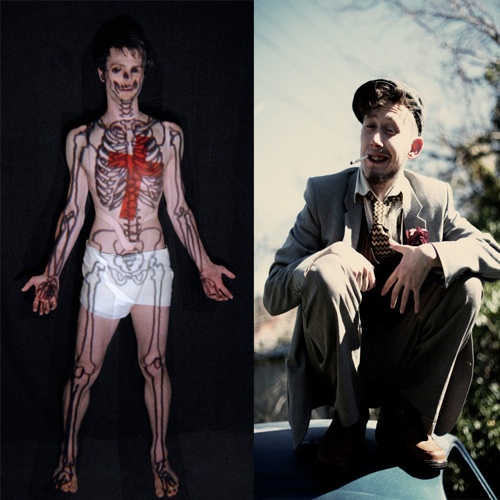 blind (image by 'pling) and hadley.
Have you ever wanted to learn HOW TO SEX? This March, two of Canberra's most celebrated Canberran motivational speakers go back-to-back in serious theatre's erotically-charged double-bill to TEACH YOU.
Experience the wisdom, compassion and fist-in-the-air empowerment as celebrated spiritual leaders Blind and Hadley cram a lifetime's worth of sexual know-how into 50 exciting and informative minutes.
Tired of the modern day confusion that surrounds the act of love, director barb barnett and serious theatre have created a Sexual User's Guide that powerfully affirms the universal human impulse to Get Better At Sex. Whether you're an old pro or a 'virgin', HOW TO SEX will show you the world of intimate congress in a whole new light. Featuring:
Be The Do-It-Yourself Sex Change You Want To See In The World, the uplifting story of Hadley's female alter-ego Jacinta and an inspirational demonstration of the power of hope and possibility.
This Is Patient Zero: A Christian Guide To Sexual Intimacy, a scripture-infused guide through the clammy maze of carnal union by Blind, one of the country's foremost youth ministers.
serious theatre's HOW TO SEX
7-8pm Thursday 3 – Saturday 5 March
The Bally Tent, The Garden of Unearthly Delights
Cnt Est Terrace and Rundall Road, Adelaide
All tickets $10
Book now via the Adelaide Fringe website.