Okay, news on the David Finig arts-etc front: firstly, the Totem Spirit Avatar Power Animal that is the YOU ARE HERE festival pounces closer with every passing hour – due to stomp us here in the Cancers on Thursday 10 March through to Sunday 20 March. Will it hurt us even as it inspires us? Well it might.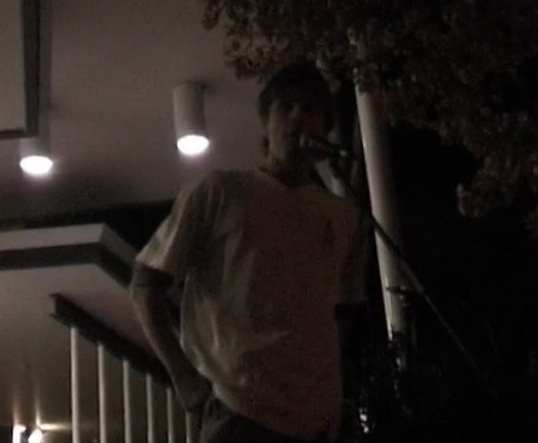 blind (my self) at Bunch of Fives 2005. image by jackal lloyd.
Before that, though, quick discovery from the past – Jackal's recording of my performance 6th Channel at A Bunch of Fives in 2005. Curated and directed by Jorian Gardner, Bunch of Fives was a monthly monologue evening held at the Street Theatre where five actors would get up and do short performances. Jorian dug it enough to write in his Canberra Review column (after full disclosure of how completely biased he was) that it 'brought the house down' and 'if you see his [my] name on a poster for a show go and see it.'
Boss. Probably not true, but it applied five kinds of warmth to the cockles of my heart, and I am grateful. Either way, this is an old favourite of mine – this piece was an early experiment in the kind of sampling and mixing that would later result in All The Pieces That Weren't Up To Standard and Sun Drugs. In this instances, samples include:
– Dolly Parton – Jolene
– Quannum – I changed my mind
– Supergrass – Moving
– Tom Waits – Step Right Up
– Frank Zappa – Trouble Every Day
– Rage Against The Machine – Bullet in the Head
– Marvin Gaye – Can I Get A Witness
And in a lovely circular jerk, Hadley took the 'One two three go' device from this piece for his 2008 poem dedicated to Jan Wawrzynczak, first performed at the finals of the Australian National Poetry Slam. Fuck yes. So, you can now check out 6th Channel on Youtube – and why not?

kangaroos don't understand headlights. image by frosty.
Moving from the past more towards the present, my short script Roadkill Play was recently brought to life for 666 ABC Canberra, as part of Melanie Tait's CanberrArts show. This fortnightly broadcast/podcast features a regular slice of radio drama curated by Melanie, and Roadkill Play was the first to be presented. Performed by Andy Leonard and Priscilla Jackman with much finesse, this is a really lovely rendition of four fairly flawed minutes of script. For which, much thanks. Have a listen on the website and check out the podcast, yo, it is much to be admired.

Penguin Plays Rough's lovely couch.
Next, aiming vaguely at the future: as writer/performer/director/maker-of-things-to-happen Pip Smith put it, 'there is a Penguin Plays Rough Book of Short Stories currently growing fingers and toes in the Great Womb of Sydney.' Penguin Plays Rough is Sydney's most worthy poetry / short story / script-reading evening, held monthly in the most luxurious conditions in a Newtown loft somewhere. Check out their website for more, or read my blissed-out review from November 2009.
PPR is publishing a collection of highlight stories from the last couple of years, and my piece Unfortunately I can't completely disregard the Christian God is included. Better yet, Pip has wrangled a lot of the writers to record audio versions of their work, which will be included with the iPhone / iPad app version of the anthology. Better better yet yet, when I was in the studio recording my piece I learned to my serious fucking honour that the musician flagged to produce the accompanying soundtrack for my piece is Tom Smith, aka Cleptocleptics. Ah. Yeah. Fuck. Yeah.
it's Jess Bellamy, it is
.
So, the news is good. No doubt. And lastly, before I spin off into the atmosphere, one final piece of radicalness making this February OKAY BY ME THANK YOU: Would Jess Like It, the new blog by Jess Bellamy. Jess is a playwright / performer / social critic of the highest order, and her new project is a slab of aceness. Would Jess Like It operates according to its proprietor's simple vision: 'I'll update this with things that are Hot or Not and then you read them and either agree with me or don't.' Well, yeah. Go there and do that.