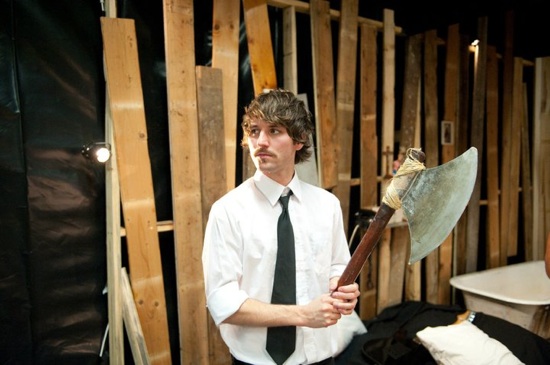 Paul Blenheim in MKA Richmond's production. Image by Sarah Walker.
Don't follow leaders.
So the charming devils of MKA Richmond, Melbourne's righteous new writing theatre, recently hammered my script 22 Short Plays into something real, passionate and sincere, and they put it on stage. Directed by Tobias Manderson-Galvin, featuring Paul Blenheim, Conor Gallacher and Ellen Grimshaw. With a battery of other awesome makers carving some kind of framework for the play to live in, and showcasing it to a bundle of Victorianates. So I need to say thank you, a lot. And I am all kinds of the grateful. And equally to the people who came to see it, and those that came to see it that wrote about, and all the reviews – 22 of which I have gathered here – which even in their brevity are more thoughtful, provocative and wise than the plays themselves. Here we go:
1. Cameron Woodhead (his review from The Age, Microsoft Word Auto-Summarised): There's a niche for true writers' theatre. David Finnigan's 22 Short Plays makes the 10-minute play festival Short and Sweet seem like War and Peace. "Plays" is overstating the case. There's some seriously twisted hilarity.
2. Nickamc: A play about all the things that you thought theatre probably shouldn't be about. A melange of skullduggery that makes for a charmingly offensive night. You may only not dig it if you expect your theatre to makes some overall sense. 4 stars.
3. Audience: An energetic exhibition of young talent.
4. Alli Sebastian Wolf: Puritanical Grimshaw rises to effervescence in this MKA cacophony, backed by Blenheim's swift claws and the resplendent Gallacher on bass. Manderson-Galvin has directed an electrical storm. Finigan is Beowulf in denim. Bring a fire hydrant – these frogs need ecosystems.
5. Audience: Timely insanity for the sake of it.
6. Penelope, Theatre Alive: 22 Short Plays hits you like a slap in the face, and I feel strangely energised by the experience. Maybe this is what it feels like to be a rock song that has had the shit kicked out of it – sorry 22 Short Plays reference – you will be able to understand this one, I promise, after you see the play.
7. Audience: I don't know what I just saw, but I enjoyed it.
8. Crossoverman: I loved some, hated others and was wildly entertained by most. But it's the rapid fire collection of 22 concentrated bits of comedy that make this another MKA show worth seeing.
9. Declan Greene: Very, very good, utterly nuts. beowulf. fuck. brilliant!
10. Hanna Cormick: Fairy bread- if your bread was the slick MKA company and your sprinkles are made of wicked hot pointy shards of theatrical literary brilliance that cut up the insides of your mouth. And everyone loves fairy bread.
11. Emily Stewart: These are plays pick-pocketed from train stops, ATMs, gym class and the nightclub; these are plays that glitch on our culture-state. Sex. Boredom. Video games. MKA's sharp direction and energetic cast add a technicolour focus to David Finnigan's shambolic script. Your best friend will probably hate your favourite one. Vice versa. It's love-hate like that.
12. Jimmy Deefcake: After last night, I
Worship at the altar of
David Finegan
I'm a heterosexual male but would happily sexually service any and all cast members of this production. Either individually, any conceivable pairing or as an all-in gropefest. There would be nothing sad about our threesomes.
13. Shasta Sutherland: FORMIDABLE INDEED; Finnigan and Manderson-Galvin are collaborators to keep-an-eye-on, laugh out-loud with and get a lil' confused about life by. mka's teeny, intimate theatre space is used perfectly and Grimshaw, Blenheim, Gallacher are fucking brilliant adding hilarity to some absurd middle-class, first world problem observations. Mostly HITS and some obvious misses; 22SPbDF is an mka WIN.
14. Max Barker: being in the audience for the prevIew night of this show was like being in year 4 and pretty unpopular but then somehow finding yourself out the back of the gym with the really cool year 6's smoking and telling dirty jokes.
15. Audience: Brilliant, an absolute treat.
16. Emma Hall: snappy. communist. sexist. COMMUNITY!! cringey. doinky. lovely. (undergraduate). hmm… DEROS!! god-hating. DISCMANS!! communist. COMMUNITY!! huh. pukey. art. ORGIES!! (undergraduate). ouch. spreadeagled men. YES!! finally!! POETRY IN A BAD HAT. nice work :)
17. David Lamb: Just saw 22 short plays at MKA Theatre and I was at turns ecstatic, hysterical and displeased. You're guaranteed to feel something!
18. Tegan Crowley: My face hurts from smiling.
19. Audience: I really enjoyed it.
20. Paul Culliver: At a base level, this was sketch comedy, but the performances were too polished and the production values too high for just that. At times bizarre and absurd, at some times incomprehensible. When it ended, you don't know quite what you just saw, but you know you want to see it again.
21. Chris Summers: A very snappy, very clever smorgasbord of scenes. Really well directed and a great cast, too. Hilarious stuff.
22. Onomatopeia: I loved this show, it was frequently hilarious, the actors were outstanding, and the design was intriguing and yet…? It defiantly leaves you wanting more.
(I love that I'm not sure if Onomatopeia means 'definately' or 'defiantly' and either way, awesome.)
Now the next thing you need to do is to go see MKA's production of Glyn Roberts' The Horror Face (including sound design by no less a human than Nickamc) and Vedrana Klepica's J.A.T.O. Don't fuck around, either. Remember how you kept equivocating about whether or not to see Buddy Holly live, and then he died?
Image from MKA's production of The Horror Face
.