For the Canberra peeps.
There's a couple of ways to tell this story. The first is to get really nostalgic and emotional and go right back in time in 2000, when Mick Bailey, Jack Lloyd and myself (aka Boho Interactive) saw barb barnett's production of Sartre's No Exit while in Year 12, and were inspired on the spot to form our own theatre company. The second (and more relevant) is to talk about serious theatre, the ACT collective consisting of barb, Gillian Schwab and a few other satellite members, whose works have been a massive inspiration and a continual upping the ante in terms of high-concept weirdness in the Canberra theatre scene.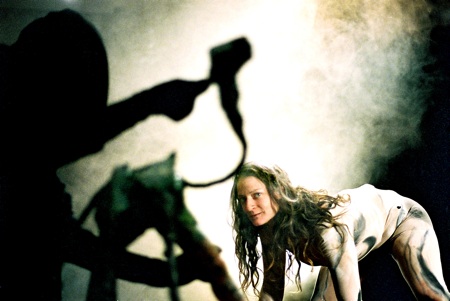 barb barnett as the All-Mother in 2003. Image by 'pling.
In 2003, barb's company serious kicked off with a production of All-Mother, a devised production featuring aerial theatre, large-scale puppetry and installation.  Presented first at C-Block Theatre in Gorman House, then scaling up for a massive version at the Street Theatre in 2006, All-Mother was an eerie myth-scape that told the story of Lilith, Adam's first wife according to the Jewish Talmuds.
The 2006 version of All-Mother was also the first major collaboration between barb and designer Gillian Schwab. Gills' lighting design was a major contributor to the immersive ur-world of All-Mother, and the two of them have collaborated on numerous occasions since, forming for practical purposes the core of the serious collective.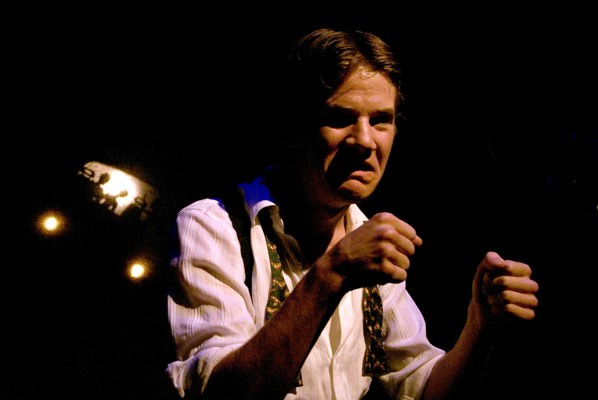 Lloyd Allison-Young in oceans all boiled into sky. Image by 'pling.
A personal highlight of serious' work for me was the 2008 production of oceans all boiled into sky, my sci-fi road-trip coming-of-age script set in a post-apocalyptic Canberra dominated by clouds of sentient steam. Directed by barb as a live radio play, oceans featured Gills' extraordinary lighting and set design on high gear.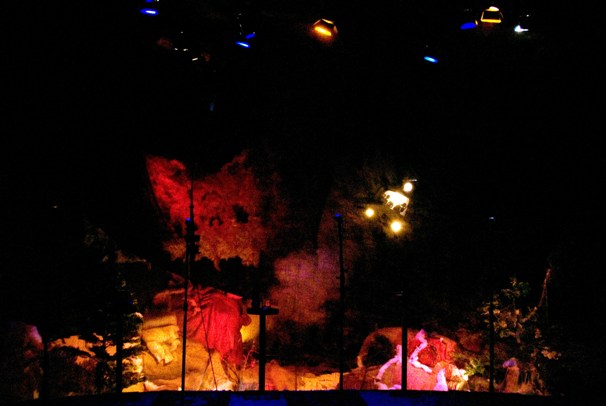 Gillians' vision of a post-apocalyptic Canberra for serious theatre's production of Oceans. Image by 'pling.
Now, serious is planting a brand new piece in the Street Theatre over November 9-13. Entitled Void Without Void, it's an immersive installation work (ie. an experiential piece rather than a traditional play) exploring space. Not the physical property of having dimensions, but capital-s Space. What you get when you depart 180km or so from the earth's surface. Outer Space. The Void, so to speak. It's a one woman show featuring puppetry and aerial performance directed by barb, designed by Gillian and featuring performer Cathy Petocz (the exact trio that Boho was lucky enough to work with on last year's True Logic of the Future), plus sound designer Liberty Kerr.
If 'important' is a word you should use to describe theatre companies, serious is one of the most important theatre companies to emerge from Canberra in my lifetime. The sheer originality of the ensemble's work, the sheer class of their production elements, the uncompromising creativity and the focus on audience experience rather than experimentation for the sake of it – I think this is essential for anyone who cares about theatre in Canberra.
But even more than that, even if you don't give a damn about theatre, let me raise one final point about Void Without Void: it's set in SPACE and the audience gets to ENTER SPACE. You are not going to get a better offer from any other show this year. Get amongst it.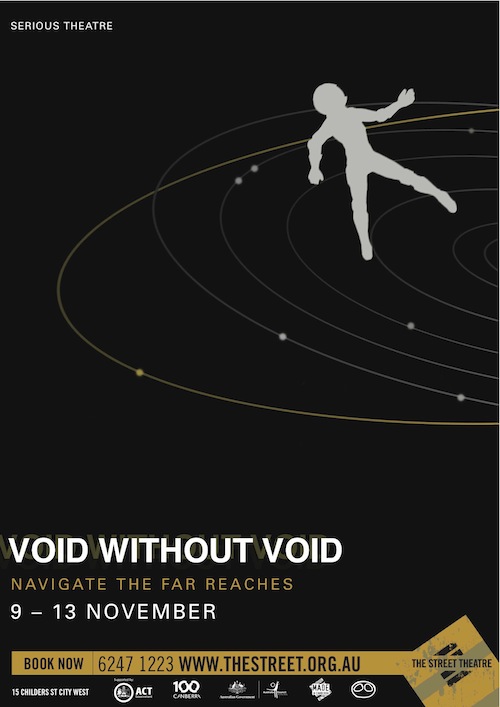 Poster by Gills Schwab, booking details as you see.