I've said before, and I think it's true, that one of the loveliest things about my early years in theatre was that we were so free of older influences. In the early years of the 2000s, when Bohemian Productions, Opiate Productions, BKu and other affiliated companies were at their height, we hired theatres and produced shows with virtually no oversight or involvement from older practitioners or companies. That was a wonderful bubble to exist in, because while it meant that we made a lot of mistakes and reinvented the wheel several thousand times, it also left us free to experiment and form our own aesthetic, in relation to no-one but ourselves.
However, this too-neat description isn't entirely true. We didn't create totally in a vacuum, and if we were left to our own devices, it's at least partly because there were people with the keys to theatres who had the vision and courage to hand their theatre keys over to a bunch of manic 18-year olds and look the other way. One of these people was Jan Wawrzynczak.
At this point in my life (twenty-fucking-eight, man), there are a few important people in the world who have mentored and supported me. Nicole Canham, Brenna Hobson, Paschal Berry, Sylvie Stern, lots of others… but especially, Jan Wawrzynczak.
In 2006, I was vacuuming the living room when I got a call from Jan, more or less out of the blue. Jan had been General Manager of Canberra Youth Theatre when I used to hire CYT's C-Block Theatre. He was now working at Belconnen Theatre, and Max Barker and I had been in the space a few times trying out contact improvisation and some physical theatre skills. We'd crossed paths occasionally, but we didn't know each other well. Anyway, on the phone, Jan told me that he had some admin work he needed doing at Belconnen, and would I like to work for him for a few hours a week?
It turned out I was not a good admin assistant, and I understand that I caused Jan more work than I saved him. However, sitting in his office and talking about the ACT theatre scene, and what we felt was missing and what we could provide. Out of that came the WET Season, a program of 10 new productions at Belconnen over 2007 which I programmed and which Jan and I produced. On the heels of that, we jointly applied for and received funding for a follow-up season, 2008's Hunting Season.
Midway through 2008, Jan was hit by a car while riding his motorcycle. Several months later, he passed away. Boho was on tour performing A Prisoner's Dilemma at the Brisbane Festival, and we got the news about fifteen minutes before going on stage. It was a strange show.
There's a lot to be said about Jan, about the work he did across the course of a pretty incredible arts career, about his passion and generosity, about his achievements and his dedication, and about his contribution to the Canberra performing arts scene. Selfishly, I'm restricting myself – in this post at least – to talking about his impact on me.
That phone call in 2006 was the thing that lifted me out of my own bubble of theatre-making, and connected me to a wider scene – to the rest of the artsworld. I'm not saying it wouldn't have happened otherwise, in some way, but for me when I think of my journey into becoming a practitioner who is part of the bigger community, I think of Jan as that link. He picked me out.
Jan taught me how to make a project budget in excel. He taught me how to use Google like a businessman and not like a chump. He taught me how to structure a working day when you are not a 9-5 kind of human being. He taught me to give a shit about artists making the kind of art that doesn't, and never will, appeal to you, because it feeds the scene you're a part of.
Jan played me Nighthawking by Tim Buckley and I listen to that song every couple of weeks at least and I think of sitting in his office listening to records and making plans.
Jan taught me how to handle people of lots of different temperaments in big group projects, and when to be worried about what other people think and when it doesn't matter a damn. He knew what to say to people who were feeling confused and unsure and down, though he didn't teach me that. So often these days I run into complicated problems and with no idea how to proceed I think to myself 'Jan'd know'. And text him, usually.
Jan sat in on the early Boho Interactive rehearsals for A Prisoner's Dilemma, and gave us some really valuable feedback on our very first fumbling experiments with interactive performance. Some of his advice has gone into Boho's toolkit as part of the basis for all our performance work since then.
Jan had a vision for our collaboration. We started out producing the W.E.T. Season in 2007 (WET stands for Wave Edge Theory – Jan's image for the experimental theatre fringe), then built on that with the Hunting Season in 2008. The culmination of this series would be a program called the Ice Age.
It's Jan's birthday today. Jan, IOU you one Ice Age. Expect it around March 2013.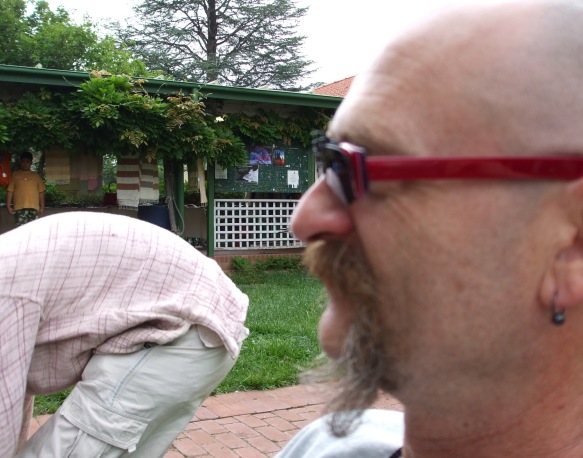 in all seriousness, what is going on in this photo? reasons why I should not have a camera, ever
.