I DON'T EVEN KNOW HOW THIS HAPPENED BUT IT IS AMAZING.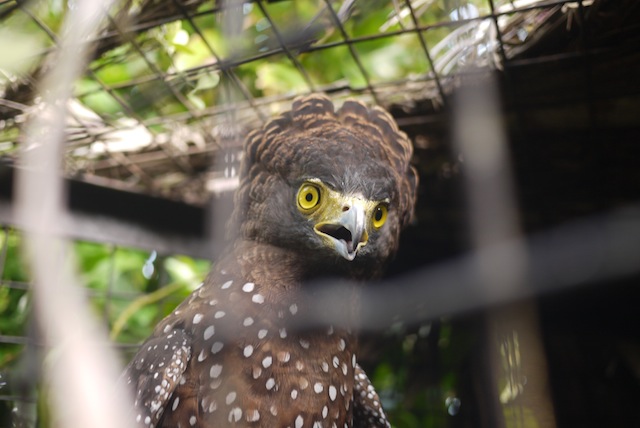 santa cruz gallery bird. image by sam burns-warr, terror by that evil yellow gaze.
I'm literally in the middle of one of the most exciting processes I've ever been involved with, and as much as I'm pinching myself every few minutes it remains real, indeed it feels as if it's becoming realer all the time
In Malate with Sam Burns-Warr, Georgie McAuley and Jordan Prosser, working with the Sipat Lawin Ensemble on new play BATTALIA ROYALE, inspired by Koushon Takami's Battle Royale, in the middle of a month-long process which the director JK has christened the 'United Nations blood-flood', and, well, that's as good a description as any.
Last week in a Buddhist temple near Harrison Plaza in Pasay, we gathered in an upstairs rehearsal room and gave the performers a set of parameters: build a scene that has this, this and this (a group of girls making dinner go from domestic companionship to brutal meltdown in less than three minutes, soundtracked by Sleigh Bells' Infinity Guitars), and 10 minutes later the scene was ready to watch, and it was stunning.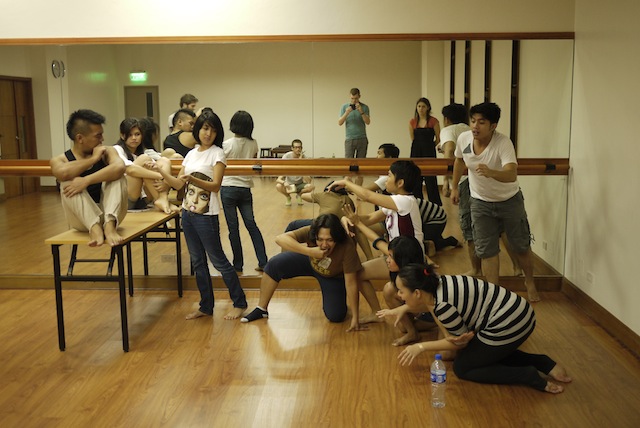 sipat lawin actors building scenes out of the barest ingredients, on the spot. image by sam burns-warr.
Each actor took on a character to study and created a Facebook page for that character. Now we're coming home from rehearsals and reading the conversations our characters are having with each other – asking 'how would they say this?' and then we can check by looking at the chats they're having with their friends. I can't express to you how fucking eerie it is to have a character in a play you're writing add you on Facebook. Also magical.
Soon we were throwing more and more complex scenes at the performers, scenes with brutal outcomes, watching them throw back incredible impros at us, all four of us scribbling madly away, then sitting with them unpacking and analysing the choices behind those impros, digging into the characterisations and the relationships, incredible articulate discussions tearing into every aspect of the story and the world, and watching the cast explode into sophisticated fluency, fine-tuning their understanding of what we're looking for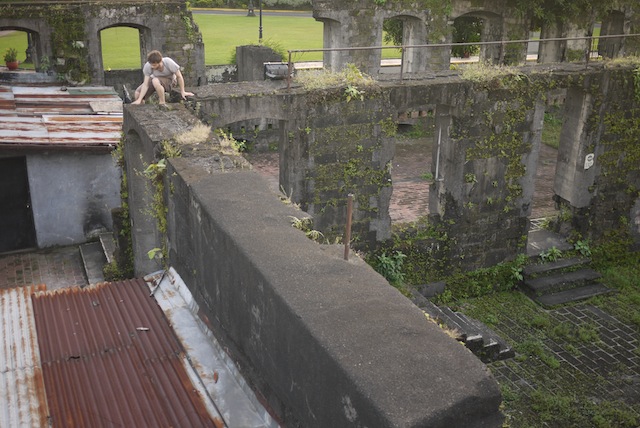 our performance space, in fort santiago. image by sam burns-warr.
man every night unfolding into some new creative world
even a simple game of Creepings Up unfurls new shapes and details and you find yourself hungry to write it all down
standing overflowing with ideas and energy on the street outside a gallery in Intramuros or at the base of the CCP monolith
and then with my fellow playwrights, hours spent sitting in cafes in Malate, on Adriatico Street and Mabini Street, chewing over ideas, fleshing out images, debating moments of narrative, exploring the endings, coming to a shared aesthetic, a combined understanding, and then late at night after rehearsals are done drinking mango shakes and reading out each other's old scripts, flooding to some kind of sense of finite awareness
now today was that much beloved moment in the process, the index card moment, the day when the four of us and JK the direcor and Ninya the stage manager sat together in the lobby of the CCP with every scene written out on 60 index cards, and we arranged them in order from beginning to end, giving this thing a spine. Then from there, rushing straight to hours and hours of writing, desperately turning this sudden sense of clarity into script on a page.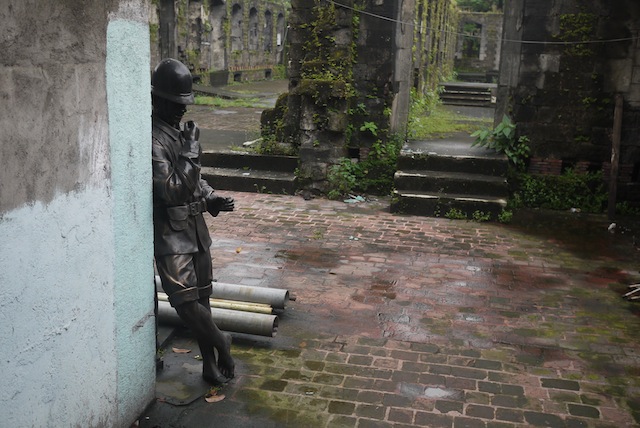 another glimpse of our theatre space. image by sam burns-warr.
I think, and I don't think I'm the only one in this process who's thinking it, that this is a pretty special project.
Oh also if you're in Manila (why wouldn't you be? why wouldn't you be?) come to Penguin Cafe in Malate this Sunday night for Sipat Lawin's showcase of short performances including me and Jordan and Sam and Georgie. I'm gonna do some kind of new mix incorporating some pieces sliced out of Sun Drugs. It'll happen, I swear it will.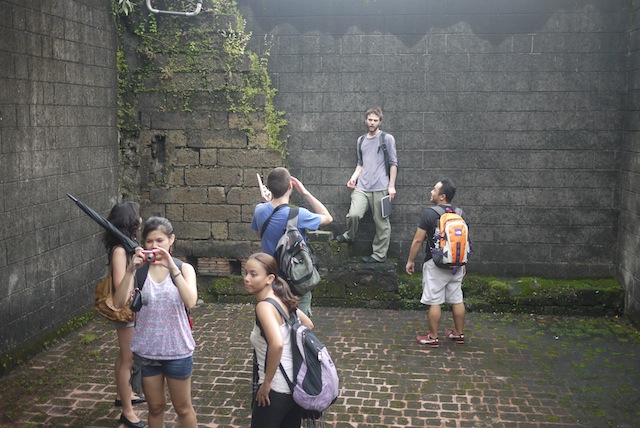 sipat, and us, chilling in fort santiago. image by sam. yes.