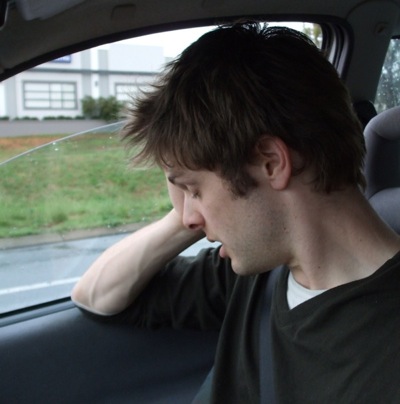 I call myself a playwright and I call these short plays. image by Linton Hartfield.
Over 10 days in March I was in the middle of the You Are Here festival. Co-producing, production managing, 45 events in 10 days, all that jive. No time to write anything, especially not anything worthwhile. But going through my notebook from the festival period I've found some scraps which viewed from one angle are incoherent notes, and viewed from another angle* are extremely short plays. At least one of them is Karmin Cooper's instructions from when she loaned me her ute. But fuckit, I call myself a playwright and I call these short plays. You make your own mind up.
*a distance, if you squint really hard
————————————-
only a good loose frenzy or a burning ship
or driving down the avenue with the sky all pink and yellow and rich with clouds and pale trees gathering shadow between them
– I see the tower on the hill
– I see the ground turn under my feet
a cold grey fire
a sinking canoe in the lagoon where the river runs into the sea
– pale blue water churned with sand covering rocks lined with razor sharp oyster shells
if you're not careful you could cut your feet up wading across that river
you could hurt yourself badly
really
slice a tendon open perhaps
or slash open a toe all the way to the bone
either way a little cloud of red blood curling from your foot
you know mixing with the sand and salt water
swirling into the sea
this is not a threat, you see, it's just
————————————-
–    it runs on diesel so
turn the key in the ignition halfway
wait til the red light on the dashboard that says 'glow coil' switches off
then turn it over
first gear is pretty much stationary
I usually just go straight to second
the brakes are designed for if you've got a load in the back
so if you're not carrying anything you can find them pretty sensitive
the handbrake is a lever under the dashboard
push it in to unbrake it
the brake light will stay on but that doesn't mean anything
————————————-
–    through here is our dining room
we ask that you do not speak in this room
we eat one meal each day in silence
it allows us to contemplate our food and consider our day and enjoy each other's company without needing to articulate it
–    so what do we do? do we each serve ourselves?
–    normally we take turns to serve the rest of us, but the others have mostly finished by now, we have come late.  we will serve ourselves.
–    are there any table etiquette things we should know? like is putting elbows on the table a thing?
–    other than to be silent and respectful, no, no rules. we are each individuals and the way we serve and eat our food is an expression of our character. you can learn a great deal about someone simply by observing the way they prepare and eat a meal.
the three of them enter the dining room and fall silent. each of them serves themselves a plate of food and eats it. each expresses their own character through the way they prepare and consume their meal. each observes the traits revealed by the others.
————————————-
anyway the crashing pipes
the cold silence in the car
–    why'd we go and get dressed up if we can't even be civil to each other?
and you think
–    this is a long way from the night I gave you head while you were driving
when we had to pull over by the bank of trees and watch headlights disappear past us
the sound of kangaroos moving uphill through the trees
don't blame it on me
————————————-
a steep stone staircase running up and down five storeys
a small stone cavern juts off into the dark somewhere near the bottom
several lighting trees and some old par cans throw a blue and red light on a small stage
there are two performers
there are three audience members
wet jackets and raincoats thrown over empty seats
the room smells like wet dog
two of the audience members leave after ten minutes
the remaining audience member is probably the director
————————————-