A couple of nights ago Muttley and I got back into London from Spain and heading to my temporary lodgings in Elephant and Castle it felt very much like a coming home. London sucks you in that way, as everyone in the world but me already knew. But be that as it may, I'm halfway through my stay here this time and consequently halfway through the Modelling Play development.
Myself, Rachel, Nathan, Muttley and Nikki presented the first public showing of the piece last week. It was an interesting showing in the sense that what we showed was never intended to form part of the final work. It was a proof-of-concept showing, where we created a full-systems model containing a series of connected interactive toy models. The system we chose to model was 'Bateman's Vegas', a fictional coastal town on the east coast of Australia. We had ten people come along to take part and share their thoughts with us, and it was a really interesting afternoon. It wasn't a success (it wasn't intended to be, and it certainly didn't surprise us in that respect) but in many ways it worked better than we thought, and we learned a great deal from the experience. There's more discussion and video footage from the showing on the Modelling Play blog, if you're interested.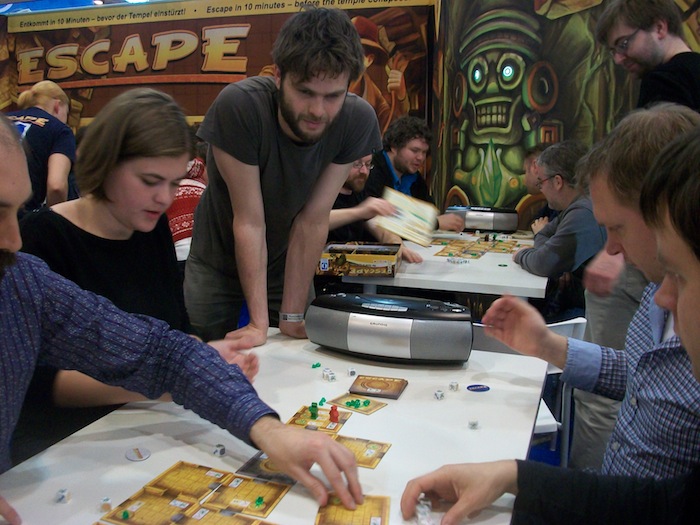 Following the showing, we trekked over to Essen, Germany for Spieletag, the world's biggest boardgame festival. Two days of boardgamery and learning everything we could about that medium, in order to better understand the intricacies of tabletop interactivity. Now back in London and about to get into phase two of the project, which culminates at the end of November with two scratch showings at the Battersea Arts Centre, November 29 and 30.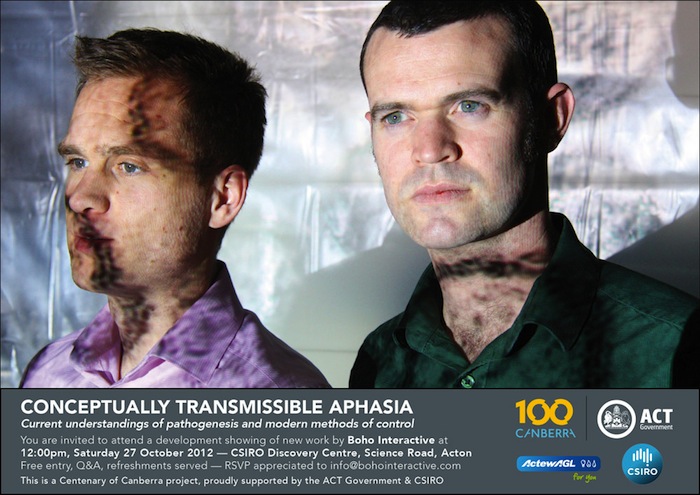 Meanwhile, in Canberra, the other half of Boho (Jack and Mick) are about to present a showing of the other new Boho work (we are having a good year I think) exploring epidemiology. Conceptually Transmitted Aphasia explores the outbreak of a new disease which infects ideas and spreads through language. That's taking place 12pm Saturday 27 October at the CSIRO Discovery Centre – details on the Boho website.