So this week was the final show of Belconnen Theatre's 2007 WET Season of theatre, for which I am co-ordinator/administrator. There have been some variously awesome shows produced by the eight or so companies who have contributed to the season, but the finale managed to touch my heart by doing its best to tear the guts out of the theatre-space and leave us no venue for next year.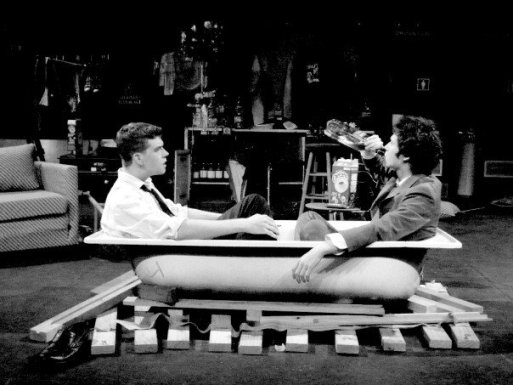 The Landlords, by Jordan Prosser and Sam Burns-Warr, featuring same. Some years after the apocalypse, the two last surviving humans on the earth are squatting in a hotel lobby, riling each other up in a range of creative ways, and preparing to commit suicide via toaster in bath. It was, fair to say, goddamn brilliant, and has me totally hyped and excited for future work from them (assuming they made it through their final performance without pulling the theatre in on top of them).
Meanwhile my self has added some new content to this website, to try and transform it into something useful for me to visit, if no-one else. New stuff includes two mappalujos, short stories written collaboratively with Nickamc and Alethiometer in 2003. The mappa procedure was invented by Jeff Noon and Steve Beard, and their original creation is up online at mappalujo.com.
Scripts-wise, I have pasted up Chosei: Eternal Life, a one-act written and produced in 2002 with the frozen shape collective (Nickamc and Muttley) following the trials and tribulations of the sperm from two of Adolf Hitler's ejaculations in the year 1953. Also Jellyfish Play, a short piece written during my 2006 residency with Tanghalang Pilipino in the Philippines, and reviews and images from Bohemian's 2002 production of The Woman in Black.
Lastly, my online retelling of Vampire Play nears its conclusion, as the Vampire Gang retreat from Dickson Station and come face to face with nemesis The Finn. Oh, and I've chucked up a performance page to list upcoming gigs and productions, although I may take it down if it looks embarrassingly quiet.