I've uploaded Ivo Lovric's photos from the fight fire with knives performance at the Street Theatre on August 25th as part of State of Belonging.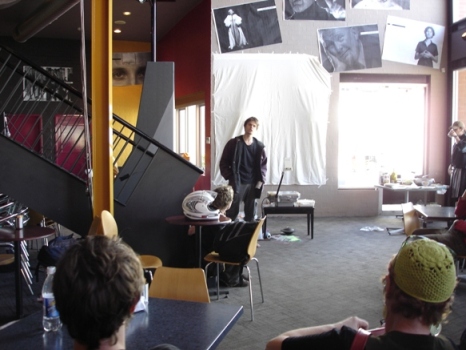 However, what I'm really proud of is a small script update. I've uploaded the entirety of Victory March, my collection of short scenes around a break-up written earlier this year. Also several more conversation plays in the Absolute Babble: sitcom in three different time periods (stolen from a conversation with Joel Barcham) and unique punishments (stolen from a conversation with Joel and Ali McGregor). There's a new long script entitled card game / house party, following (mostly following) a group of teenagers at an underage party. And lastly, uploaded three new short plays: shrine play, love letter walkthrough and last of all, set in the slave-fighting pits of the far future: when I die I will rot and nothing will survive.
As always, give me a yell with any thoughts, ideas, contributions or suggestions. And if anyone knows of a way to make my penis longer and to give me more stamina so that I can have greater confidence with the ladies, I'd appreciate it if you could send me a link to your product's home-page. Thanks, intertrons!