Diplodocus is Chris Finnigan (guitars, FX, loops), Paul Heslin (processing, beats) and David Finig (words, FM/AM radio).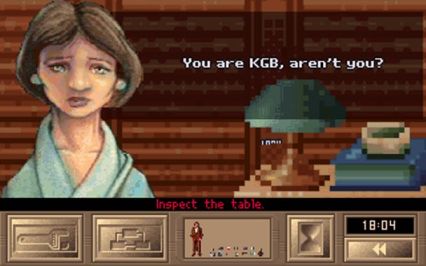 Download tracks from Diplodocus' first EP You are KGB, aren't you?
Diplodocus – The idea of a sun god.mp3 (9.1mb)
Diplodocus – You are KGB, aren't you?.mp3 (4.3mb)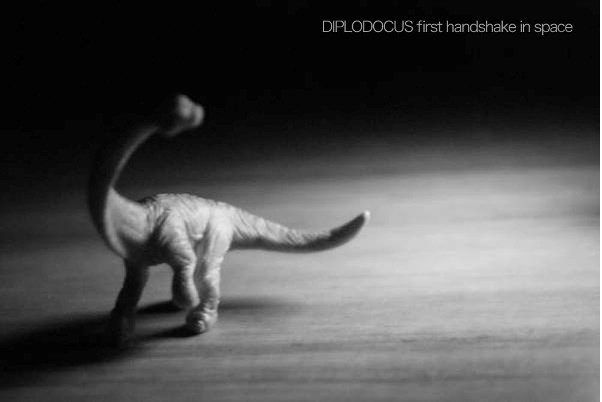 Download Diplodocus' second EP First Handshake in Space. Cover art by Bethany Heslin, track listing as follows:
1. singing love songs
2. windows open
3. very sick indeed
4. the bandaged king
5. threads from the sun
History
So. Since 2007, Chris Finnigan and myself have been jamming together as a duo: Chris on guitars, loops and FX, and myself on spoken word, FM/AM radio and found sounds. In mid-2008, we approached ACT musician and producer Paul Heslin and asked if he'd be willing to record a short EP. Paul agreed, but within an hour of our first recording session, we realised that Paul's contribution would extend way beyond producing. Paul ran our guitar / vocal contributions through his laptop and used Max MS/P to process mine and Chris' input (all live) and to supply a demented stream of beats. We were all very happy with what we'd discovered, and we began work as a three-piece.
We inaugurated our new collective and named ourselves Diplodocus, after the main character in Diplodocus' signature song Diplodocus.
The idea of a sun god
The idea of a sun god opens with murmuring guitar notes and a quote from Ecologist Roger Bradbury's 2007 paper 'Event Horizon for Democracy', exploring the long-term survival prospects for ideas such as Democracy, the divine right of kings and the (once-popular) idea of a sun god. Before too long, the music has swollen into a thick, heavy river of bass tangled with layers of twisted guitar and pulsing underneath with a crackling drumbeat. It reminds me of Animals-era Pink Floyd, and I totally enjoy getting lost in it.
back to blind sounds index