back to bio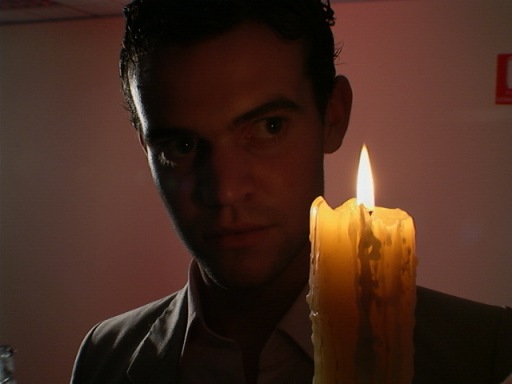 Jack Lloyd as the Actor in Bohemian's The Woman in Black. Photos by Tom Finnigan.

.
Bohemian's fourth production, in April 2002, was a play by Stephen Mallatrat from the novel by Susan Hill: The Woman in Black, a proper gothic ghost story. This was easily the smallest group we'd worked with, and the most expensive and demanding set/tech/props script we'd ever worked with. Nevertheless it is fun to make people jump out of their seats in terror.
'Thus, in such another house there is a haunted door, that never will keep open; or another door that never will keep shut; or a haunted sound of a spinning wheel, or a hammer, or a cry, or a sigh, or a horse's tramp, or the rattling of a chain. Or else, there is a turret clock which, at the midnight hour, strikes thirteen when the head of the family is going to die; or a shadowy, immovable black carriage which at such a time is always seen by somebody, waiting near the gates in the stableyard.'
Charles Dickens, A Christmas Tree.
Personnel
Directors: Michael Bailey & Kim Gorter
Produced: Boho Productions
Sound: Rob Graf & Michael Bailey
Stage crew: David Shaw & Nick McCorriston
Poster design: Hamey Studios
Photographs: Tom Finnigan & Rob Graf
Costume design: Prue Bailey & Rachel Henson
Lighting: Andrew Brightman & James Dyer
Program design: Rob Graf
Kipps: David Finnigan
Actor: Jack Lloyd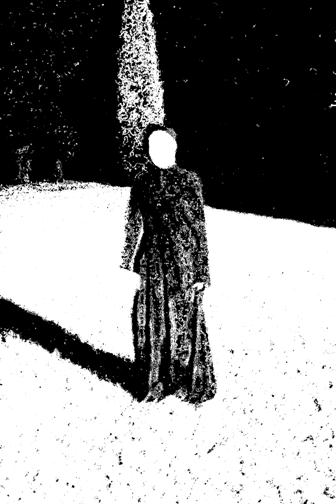 image by R. Grafkin
.
Review
Alanna Maclean, The Canberra Times, April 2002
The Woman in Black proves on stage to be one of those classic ghost stories that feel like M.R. (and Henry) James with a dash of Dickens. A man (Kipps) meets an actor in a theatre with a view to have him retell the events that have, in traditional style, blighted Kipps' life. This is a lovely device that enables the audience to see the story unfold as the actor learns how to tell it. And, naturally, there is a twist at the end which you might see coming but which I cannot fairly reveal.
Bohemian Productions has managed to go a fair way with the mood of this piece. David Finnigan as the distressed Kipps and Jack Lloyd who plays the Actor both have something of the required conviction and intensity – even if it is not always fully sustained.
The uncredited ghost is a disturbing image, but I could not help but feel that a less draped and more open use of the studio would have been more suitably surreal. The ghost had to push curtains aside at one point and the Actor had to work with a rather flimsy set door that was clearly meant to be solid. Perhaps the graveyard and the nursery would have worked better set outside the glassed end of the space.
It might also play more strongly without an interval. However, despite this interruption to the mounting menace, the cast do manage to create something of the requred atmosphere. This is a play with clear appeal for those who like their ghost stories mysterious and malevolent.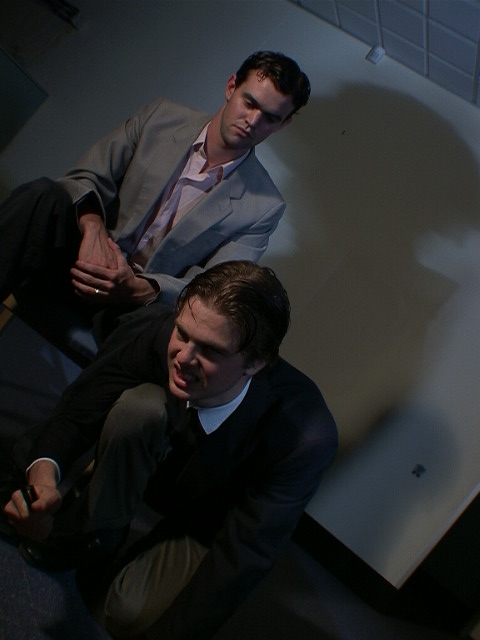 Jack Lloyd and David Finnigan in The Woman in Black. Photos by Tom Finnigan.