back to oceans all boiled into sky
back to scripts
.
script samples
this happened in the canabrae
orders from the human race in Shanghai
the tale of the mongoose and the two cobras
steam planet motherfuckers
the black mountain
medicine eating song
the only prayer I know is Fibonacci's
fifty five hour day
have you ever, like, kissed anyone?
there is no protection
feeling funny in my head, lord, I believe I'm fixin' to die
and a treasure map! made in MS Paint!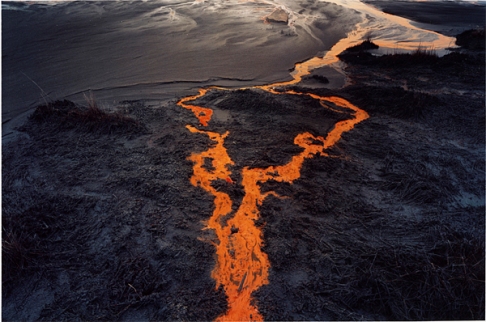 Australia's charming capital city, known to my phone's predictive text function as The Cancers
this happened in the canabrae
shh. drop it down. arright, now, I need you guys to act real cool for a few seconds. if you're sitting in a cold dark cave with a projector fluttering and these images spattered on to the wall, then you're watching this documentary. this was filmed in the capital city of Australia.
me, I don't know the details, but as I understand it there were networks of humans that linked up into one massive human society, wrapped around the surface of the earth. when the oceans were stuck in the ocean beds, there were humans gathered in knots on all the dry surfaces. here on this fragment of the planet, the humans gathered around a knot called Canberra. in these cracked and bleeding streets there were human men and women lurching around all day on their back legs. now, only a few brave and desperate sapiens dare travel through this fog-ridden wasteland. those humans are we humans. you are watching the soldiers in the battle for planet earth.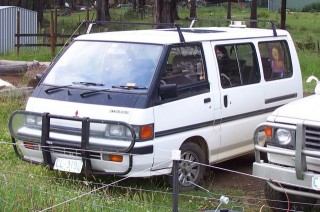 a Mitsubishi Starwagon – the interior is 0.58cm wider than the exterior
orders from the human race in Shanghai
priest: Stop dancing! Stand still – twitching – wired – all muscles tense – all eyeballs wide and staring! We start from here. The time is zero – it is zero hours since we were here last. Begin!
honest: I realise I'm fine. Utterly fucking fine. I feel like someone's spreading butter on my spine.
malkin: Is he still chattering? Give us a job, let's go.
mack: I can't slow my breath down. I want an asthma puffer. I want more than that, I want two asthma puffers.
priest: See here on the floor, the marks and shapes in the mud? It is a message from the city of Shanghai.
mack: I think I'm hyperventilating.
honest: These are our footprints from dancing.
priest: Because you cannot read the code. It is news about the war.
honest: What's happening? Are we winning?
priest: See these patterns here, these streaks in the mud? The tide is turning, at long last. All over the planet, human beings are taking back the surface. In Edinburgh, in Brasilia, in Ulan Baator, the humans have taken back the streets and forced the clouds into the sky.
honest: That's fantastic!
priest: Here in Canberra we will not lag behind. You have been given a vital mission. Here, these stumbling smears? The human race in Shanghai wants you to capture a live creature.
honest: Alive?
priest: A live creature. I have a new vehicle for you, salvaged out of the mud. This is a starwagon. This will take you into the heart of Canberra, up the side of the Black Mountain to the Black Mountain Tower.
mack: Can you please show me how to get back into the Motor Registry?
priest: Honest Jon will be the lantern-bearer. Malkin will record the documentary of your mission. Let me present you your driver: Mack Finch.
mack: I'm sorry, I thought you were my driving instructor and I've followed you through the wrong door or something. I'm supposed to be in the Motor Registry carpark.
priest: This is your test.
mack: No, this is all fucked up. There was a door, there, we went through it like two minutes ago.
priest: Now this is the importance of your mission: Shanghai has sent you gifts! Here, help me dig them out from the mud. Shanghai has pushed these presents all the way through the centre of the earth and almost out the other side.
mack: Where the hell is the door? This is the bottom of a cave!
honest: What's this stuff down here?
priest: You realise I wouldn't send you unprotected into the Canberra! Why ever worry? Let nothing trouble you! Can't freak out when you've got cassette tapes to soundtrack your mission into the wastes!
honest: Good crunching crackling human music?
priest: Along these thin strips is coded the signals to create the most music music music that there is! Tapes that when placed in a tapedeck summon entire rock and roll bands, or drifting blues songs, or rabid electronics! Tapes for battle, tapes for travel, tapes to soundtrack a hot young commando outfit striking out into the ruins of Canberra!
honest: That's all I need, Mr Priest-man! Good music to keep my ears sweet, a good motor vehicle wrapped around me and good company to roll through the hours with!
.
the tale of the mongoose and the two cobras
honest: Chill out, man. No more of this freaking over third gear. You ever hear the tale of the mongoose and the two cobras?
mack: No, I don't know that story.
board-game girl: I'm here. Focus, I'm here. Fix the signal. Here. I am – here –
honest: I know that story. I'll tell you what, there was once upon a time a field by a river, and the mongoose came out of the snakehole and said "The cobra was pregnant but I killed it anyway!" and the birds sang a song in the mongoose's honour and there was peace and safety. Peace, and safety.
mack: That story didn't have a beginning or a middle.
honest: We all want peace and safety. Peace, safety and peace. What's your name?
mack: Mack. Mack Finch. I was supposed to be going for my driving test-
honest: Mack, the point of the story is don't worry about third gear. Just keep driving forward until we hit the Tuggeranong Parkway, then on the Parkway up the Black Mountain. That's how we attain peace and safety.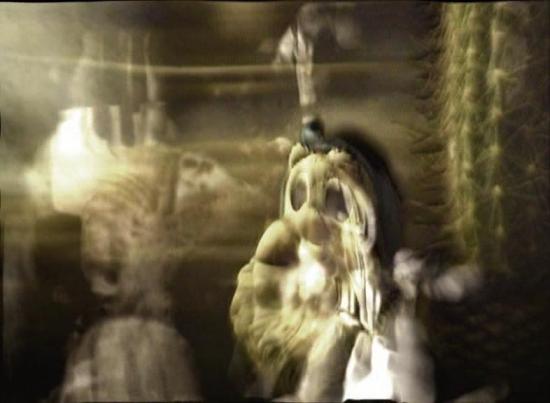 image by Peter Newman (redux.org)
steam planet motherfuckers
mack: What the fuck are these things?
malkin: Like a map of pinpricks stabbed out of the air – Honest, cram me into the corner, I want to get a wide shot.
mack: I've never seen smoke do that.
malkin: It's not smoke. It's steam.
Our driver starts to understand that this Canberra is not the idyllic bush-capital he is familiar with. Why? What happened here? Honest?
honest: The oceans boiled.
malkin: The oceans boiled. All of the water that covered seventy percent of the earth's surface boiled into steam. That steam now floats over every centimetre of the earth's surface.
Let's speak with the van's documentator – world-weary soldier Gwen Malkin. Gwen, how are you doing?
Fucking mostly blind, and I can't make my arms or legs work properly.
That's great. Gwen, you just mentioned that the clouds covering Canberra tonight are actually steam from the earth's boiled oceans. Can you explain what might cause the oceans to boil?
Well the oceans didn't always rest on the surface of the earth. If we go back – way back – 3.5 billion years ago.
Wow. That's a long time ago!
That's right. The earth is forming around a heavy iron core. There's a sea of molten rock wrapped around, but all the h2o is super-hot steam, blown over the earth by gale force winds.
Eventually, this sea of lava cools down enough that a crust forms over it like the scum on a bowl of soup.
mack: What the fuck is this?
honest: Tuggeranong Parkway! Now keep driving upwards, this road will take us up the Black Mountain!
mack: This is a forest!
honest: Once, the Parkway was the avenue of royal chariots.
malkin: When the crust on the outside of the earth cools down to about 350 degrees celcius, the steam starts to condense into rain.
All over the earth, huge rainstorms crash down. But the instant that rain hits those burning hot rocks, it boils right back up into the sky! Steam-planet, motherfuckers!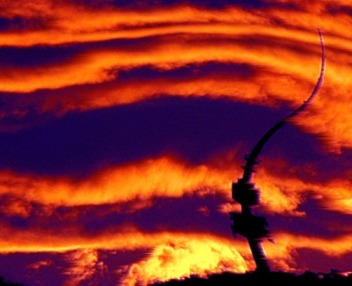 the black mountain tower – image by Amanda Graydon
the black mountain
There are waist high ferns and stumpy conifers to wade through. There is the murmur of dragonfly wings and the screech of centipedes. Off in the distance, though, there is a sound like a thin scream, a frequency you're just on the edge of tuning into.
It's the sound coming from the mountain. Really you can only see the base. The whole mountain is wreathed in mist and fog, moving all over it. Sliding all over it. And the steam and fog just reach up into the sky and meld with the clouds all through the city.
That's a huge puzzle. That's a tapestry of information woven out of particles of water vapour.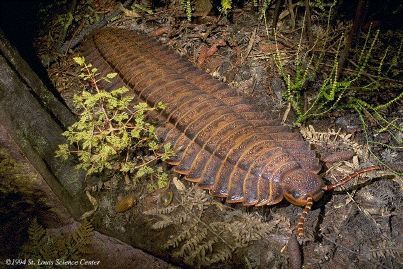 this is an Arthropleura and it is 2 metres long and was the dominant life on this planet for a long (too long) time
medicine eating song
malkin: good old lullabye poison!
I hate to have to swallow you
I can feel the inside of my head
my brain my skull the blood the nerves
crumbling into sand
just do your job for as long as you're supposed to work.
75 milligrams once every twelve hours?
don't worry about stopping it
but hold as much of my brain together as you can
.
the only prayer I know is Fibonacci's
mack: I can't stop thinking of ways in which I might die, might hurt myself. I'm in a spiral and the only prayer I know is Fibonacci's. one. one. two. three. five. eight. thirteen. twenty one. thirty four. fifty five.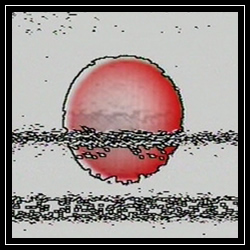 fifty five hour day
mack: look at those clouds over to the east. they're like sheets of blood. what's making them so red?
malkin: the sun's coming up. lemme get the camera out.
mack: in my school we learned 24 hour time.
malkin: the day is fifty five hours long.
mack: no it's not, it can't be.
malkin: you were taught with the old clocks where you count to twelve twice and then the day is over. right? that because when those clocks were made the earth was rolling along in its orbit at a speedy speed of 24 hours per spin. but the spin is slowing down. the earth isn't turning as quickly. these days we see the sun for 20 hours straight. it's been pitch black night for nearly 25 hours now.
mack: that's not possible.
honest: that's gonna have to be possible. in about sixty seconds the sun is gonna come up and you're gon have to stare at it for 30 hours straight.
malkin: we now move in for a close up as Mack's head explodes.
.
have you ever, like, kissed anyone?
board-game girl: What do you want? Kisses? Do you want kisses?
malkin: Driver awareness reconfiguring.
mack: Sorry, what was that?
honest: Mack, where are you turning? You're turning the wrong way. I'm going to have to remove success points from your, your successing.
board-game girl: Have you like, have you ever kissed anyone?
mack: Yeah, kinda. I kissed Rosemary Barnes in Year 10.
board-game girl: Are you serious? She's such a bitch.
mack: Yeah, she is a bitch. I think she was showing off. She did it all in front of her friends and they were all laughing.
board-game girl: Was it nice?
mack: It was all right. I don't think she knows – ah, shit! What the fuck are you doing to me? Get out! Get out!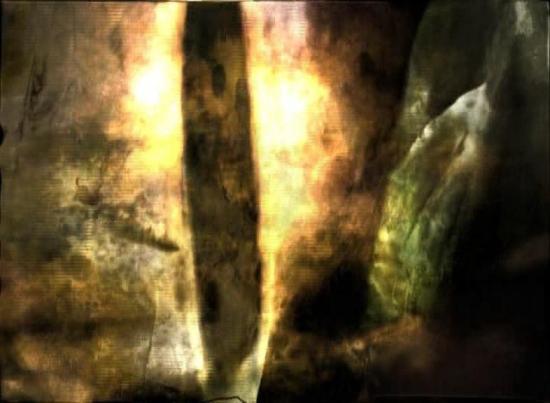 image by Peter Newman (redux.org)
there is no protection
honest: I think it's messing with the blood in my streams.
malkin: Of course it's messing with the blood in your streams.
board-game girl: Can you feel it, Mack? It's knocking your molecules over one by one.
mack: I don't want to die.
board-game girl: Why not?
mack: Just because I don't win awards or I don't have a million friends doesn't mean I need to – I have heaps of reasons to be alive!
board-game girl: Downloading connec – connec – twenty one temperature degrees. Thirteen hours, Twenty one degrees – twenty one –
honest: What are you doing to my blood? My fingernails are about to burn off the ends of my fingers!
malkin: There is no protection.
honest: Music. We need music, we need human – music –
malkin: There is no protection. In this van that tumbles through this city that crumbles there is no protection.
honest: Where are the cassettes?
board-game girl: – temperature – thirty four
– degrees – cel –
thirteen hour –
discon –
honest: My fingers are growing tongues!
.
feeling funny in my head, lord, I believe I'm fixin' to die
mack: Honest.
honest: Shit! Mack?
mack: Honest. You wanna play a tune?
honest: You don't look too well, Mack.
mack: I wanna hear some good music, that's my trouble. Why don't you fix me up something twitchy?
honest: I'll see what I can do.
mack: feelin' funny in my head, lord,
I believe I'm fixin' to die, fixin' to die-
feelin' funny in my head, lord,
I believe I'm fixin' to die-
well I don't mind dying
but I hate to see my children cry…
board-game girl: How are you feeling, Mack?
mack: I feel all right. I feel right. I feel like I've always been wrong. I've wanted the wrong things. I was wrong to try to pass my driving test. I was wrong to try to make my dad proud of me. I know what's right – I'm a failure and that's all right. It's a very special kind of RIGHT RIGHT RIGHT!
honest: Hey Mack, man, hey Mack the Mack Finch – are you going to die?
mack: For sure! That's where it's at, man, that's the only positive way forward!
.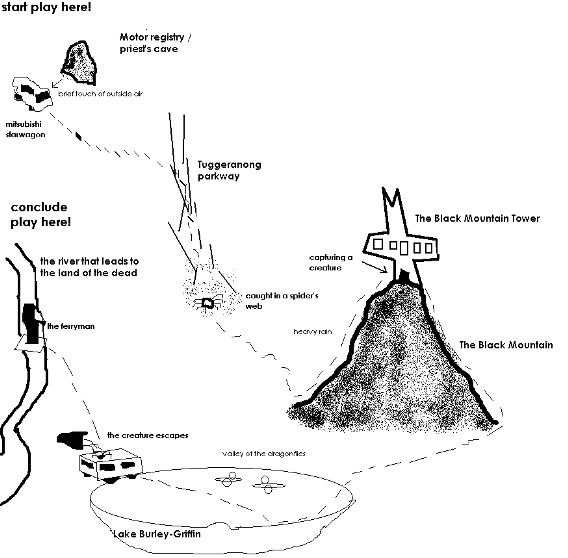 .
back to oceans all boiled into sky
back to scripts