A page for the non-script writing I do – essays, blog posts, other work.

image by sarah walker
PUBLISHED IN THE WORLD
Medium – New Rules For Modelling (2020)
My practice involves creating models of complex systems and future scenarios, using my skills as a writer, theatre-maker and game designer. During lockdown in 2020, I wrote a series of essays breaking this practice down, discussing how I work with scientists and exploring what the arts can contribute to research and policy-making.
The Lifted Brow – You're going to get away with it (2018)
Published in Australia's quarterly attack journal. Justin Wolfers invited me to contribute an piece to 'Levity', the series he was curating/editing about the different ways people are finding joy and pleasure in these troubled times. I took a zoomed-out look at how the human experiment on this planet might be viewed by archaeologists a few hundreds of millions of years from now.
The Futures Centre – Future Signals playlist: The Future of Pop Music (2018)
A curated selection of fascinating current trends and events that point to some possible futures for pop music over the next 30 years. Drawing on Jordan Prosser, Nick McCorriston and my research for our sci-fi police procedural CrimeForce: LoveTeam, which looks at boy bands in different alternative futures in the year 2050.
Audrey Journal – Staging the Unstageable (2018)
Originally written for this blog, Sydney arts journal Audrey republished this essay I wrote about seeing Griffin Theatre tackle the staging of Kill Climate Deniers. Includes my reflections on the craft of playwriting, what it means to write an 'unstageable' script, and barb barnett's brilliant take on my sci-fi road-trip play Oceans All Boiled Into Sky. (On a related note, I wrote an article for Griffin Theatre's website about my approach to playwriting, and the idea of a play as a mixtape.)
HowlRound – What Happens When You Threaten Murder In The Title Of Your Play? (2017)
US theatre journal HowlRound asked me to write a piece responding to the controversy around the title of 'Kill Climate Deniers'.
Medium – The End of Earth Science (2017)
An essay on Medium following my visit to the European Geosciences Union's General Assembly in Vienna in 2017 – and a reflection on where science is heading in an era of populism.
Rhizome Magazine – All The News We Hope To Print (2014)
An essay looking at the Yes Men's special edition of the New York Times, and other newspaper editions reporting from the future.
The Winston Churchill Trust – Uncertain, Contested and Ultimately Shared: Collaborative Tools for Constructing the Future (2014)
In 2012, I was awarded a Churchill Fellowship to undertake a research trip to study the intersection of science and the performing arts. Over January – March 2014 I travelled to 13 cities in North America, Europe and Asia, visiting arts and science institutions and meeting science-arts practitioners. Upon returning to Australia and undertaking several months of further study, I published this report, exploring the emerging cross-disciplinary fields of Systems Gaming and Experiential Futures.
HowlRound – What happens when you threaten murder in the title of your play? (2017)
I wrote a piece for American theatre journal HowlRound's Theatre in the Age of Climate Change series, discussing the motivation behind Kill Climate Deniers' hyperbolic title, and the consequences – good and bad – of that provocation.
Crikey – A Spotter's Guide to Climate Skeptics (2018)
A lighthearted short article for Australian news website Crikey classifying the various sub-species of climate denier, and pointing out some distinguishing characteristics to help curious observers tell them apart.
Seizure Magazine – I have friends who are growing gardens (2014)
I wrote a personal essay for Seizure Magazine about the internet, tracking my own use of and unease with social media and blogging platforms.
PUBLISHED ON THIS BLOG
Some funding applications for you to read, copy (get wealthy with)
I uploaded a few of my funding applications from over the years (some successful, some not) – if it's useful, you're very welcome to read them, copy them – give me a shout if they turn out to be useful.
Sketch for a form of work
In 2016 I spent some time reflecting on my practice, drawing together some of the interesting and unexpected strands of my work, examining the failures and the unexpected successes for patterns. Out of that process came this essay/manifesto, which attempts to articulate the core principles and approaches underpinning all my work, and proposes some starting principles for creating meaningful cross-artform work.
REVIEWS
Because of how I'm wired, I'm not a great fan of a lot of middlebrow TV or films. I am continually turning down offers to watch extremely good things, Academy Award winning dramas etc, in favour of junk. I quite like a lot of super abstract video art, and lowbrow genre trash – nothing in the middle. I'm not proud of this – in fact I wish I were different – but nature + nurture conspired to do a number on me in this regard, and now here we are.
Anyway, the result is, I sometimes watch genre films and write – well, not quite reviews, but… commentaries? – on them. And because I haven't really documented that material in any intelligent way, I thought it might be a good idea to gather some of those pieces in one place, in case anyone feels like they need that.
So, here we go: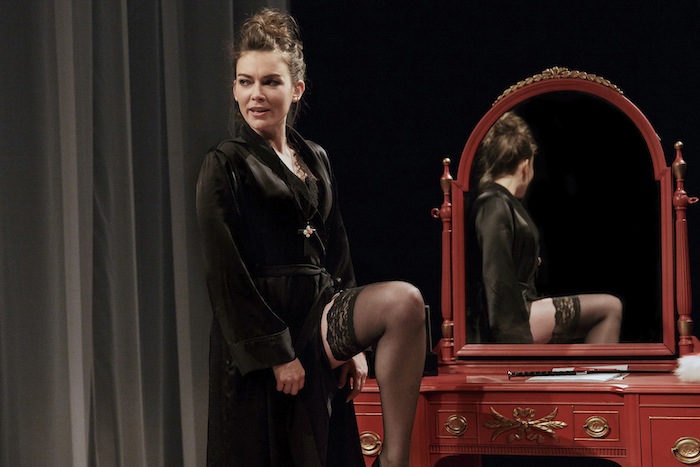 The Surrender is not the anal sex primer we were praying for
Starting with the best first, The Surrender was a one-woman show based on Toni Bentley's erotic memoir about her sexual adventures, and in particular, her journey into the world of heterosexual sodomy. I saw this with Jess and Siobhan in New York and it is easily one of my top three theatre experiences of all-time.
Click on the link and journey from top to bottom – or as Toni Bentley would say: 'from bottom… to BOTTOM.'
Never Been Kissed (1998) starring Drew Barrymore
In the pantheon of late-90s high school films, Never Been Kissed has the distinction of being entirely held together by Drew Barrymore's facial muscles. 5 stars, with the proviso that most of the film is so forgettable that I forget it even while I was writing this recap.
I saw this early Selena Gomez holiday romance / mistaken identity saga back in 2011 and it was terrible, but also, the sight of Leighton Meester shedding some of her uptight cares and worries and learning to be free by splashing through fountains and necking with a topless aussie bloke in waist deep water… ahhh.
& now a blow-by-blow account of Dirty Dancing 2: Havana Nights
This whole film is a fucking disaster, and I ended up being on the side of the uptight wealthy jerk who the heroine's parents are trying to set her up with, rather than the free-spirited Cuban dancer lad she falls for. Also the Patrick Swayze cameo was weird and disturbing. But a dance training montage to Shakira's Hips Don't Lie makes everything okay.
 we are all John Lloyd Cruz (but we are trying to be Bea Alonzo)
Thanks to Clyde Enriquez I watched the iconic Filipino rom-com One More Chance, way over-identified with Bea Alonzo as the heroine, and hated matinee idol John Lloyd Cruz more than I've ever hated a movie character before or since. Fuck that guy.

was the Hannah Montana Movie worth it?
Jess Bellamy and I sat down together and watched the Hannah Montana movie – jointly, for science – and each wrote our own review. I'm not going to spoil it for you, but it is not a very good movie. Except for the barndance sequence, that's all killer no filler.

How To Be Single, movie, I watched you
Most recently, I poured my tired soul into this Dakota Johnson vehicle, and look, I felt a lot of feelings, but I can't pretend they're all thanks to the film. I spent a lot of time being distracted by the conspicuous wealth on display, and by the total lack of any clear narrative arc.
OTHER SCRAPS
Verity La Journal – 18 play ideas from 2002
Exactly what it says it is. Verity La published it in 2011, but don't worry, the play ideas are all actually from 02.
Negotiating Project Partnerships: A Case Study
I thought it might be interesting and instructive to publish some email correspondence I had with various organisations while negotiating support for a production of my show Too Much Pornography High.
Potential Band Names (with Chris Finnigan)
My brother Chris and I (aka Finnigan and Brother) have an ongoing collection of potential band names in case we ever start a musical project and need a name in a hurry. This is a small selection from the list. This piece was also published in the Verity La journal (as 'experimental prose', awesomely enough).
The Heart of the Sacred Forest
A short fantasy featuring woodland animals dressed in clothes formed into pseudo-medieval religious societies.
Top 20 Canberra shows from the last decade
Following a two-part article in RealTime Magazine bemoaning the death of Canberra's performing arts scene in the late 90s, I decided to write a few notes on the ACT theatre scene in the 2000s, the decade in which I began making work. Without intending it to, my article took the shape of a top twenty list, outlining some of my favourite companies and highlight performances from the decade spanning 2001 – 2010.
BEST REVIEW OF ALL TIME
During a university creative writing course, I submitted a short script called The Cigarettes for my classmates to review. One of them responded with what is effectively the most damning indictment of my writing I have ever received.
The North Belconnen Knife Fighting Pits
A series of four publications written by the Human Cannonball Academy (aka Hadley) and blind (aka my self) and published by the popular knife-fighting arena based in the northern suburbs of Canberra. All four issues are available as PDFs for free download.
short stories about Jan
stories written for a dude who died in July 2008 and was one of the more importanter people in my arts-making life.
Sickness in the Dark
A mix of original and sampled works, originally created for the Best of the Slams Poetry Evening at the Front Cafe in Nov 2007. These texts are dear to my heart – starting with the Grand High Witch's opening lines in Roald Dahl's The Witches, it moves through The Hobbit (Bilbo and Gollum's battle of wits under the Misty Mountains) and a number of original fragments before finishing with Beat Poet Lew Welch's I Saw Myself, written just prior to his nervous breakdown in 1956.
My Name is Dee Race (by Josh Inman and myself)
This is the autobiography of Dee Race – folk singer, dog breeder and communist spy. Josh and I each wrote half of the pages, without any consultation or comparison to ensure narrative continuity. Nevertheless, the life of our beloved gay-spy-bishop is a rich and exciting one, which you must read right now.
Dog and the Dirty Ocean
Hadley proposed that we each write half of a 20-page potboiler adventure thriller following the life and times of one-eyed knife-fighting transvestite Dog. We flipped coins to see who would write which pages, and set to work with no knowledge of what the other was writing. This is mine: pages 3, 4, 6, 8, 9, 10, 11, 12, 13, 19 and 20.
DINOSAUR CONCEPT ALBUM
lyrics for my proposed concept album about the mighty race of cold-blooded amphibians that ruled the Earth for more than 850 weeks!
The Road Ahead
extracts from a gruesomely epic collaboration between Nickamc and myself, following the travels of a young deviant named Ul through a range of lands and adventures. This is only selected extracts, because unless I'm very much mistaken, no-one is likely to need the full 49 chapters of this in a hurry any time soon. Enjoy –
short poem pieces from 1999-20001, and from 2002-03. they are, at least, short.
hardcore egyptian grunge
a sample of stream of consciousness babble from Jan-Feb 20008 in New York.
When we got to the ice-cream shop my lady was tired and I ordered her a mango icecream. While we ate we looked out at the clouds rising in terraced palaces over the water and the orange sunset and I thought it was very good to look at.
I suppose at the time… poems from 2003

A collection of short poems I found from 2003. I like tigers and supermarkets and breaking computers and – I actually really like these, I don't know why.
I saw someone wearing a coat made of eyes
Artist and collaborator Jay Christian observed something curious – from that sentence has grown a number of short pieces, including a collaboration with sound artist Grahame Thompson.
Influence of Jeff Noon on my writing
A few words to acknowledge the effect that British writer Jeff Noon has had on my work. Also! a page of sources listing some of the key texts, films and musics that have combilated to form my work.