This David Finig myself is a pharmacy assistant, writer and theatre-maker originating from the Cancers, capital city of Australie.
I have worked as a theatre-maker since 2001, when I formed theatre-collective Bohemian with three like-minded compadres. Since then I have written, performed, directed and produced performance events and festivals with a range of companies in Australia, the USA and the Philippines.
Download a copy of my official CV as a Word doc here, or read on for an informal bio. WARNING: it is told in backwards order, starting with 2008 (so as to capture your attention with the recent successes before you get to the comparatively awkward projects of my teenage years).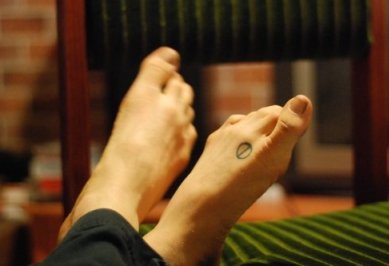 it is a photograph of my feet
2008
Jan-Feb: worked at the HERE Arts Center in New York as part of the stage / tech crew for HERE's annual Culturemart Festival.
Performed spoken word at the Nuyorican Cafe and the Bam Bam Slam, New York.
April: Performed spoken word with cellist Grahame Thompson for the Tableaux Vivant Peep Show, including Haunted Brothel and 4-Digit Pin.
May: Worked as Artistic Administrator on the May 2008 Canberra International Music Festival, helping co-ordinate, promote and stage-manage more than 70 concerts of classical, contemporary, jazz and electronic music in venues around the ACT.
June: Bohemian toured A Prisoner's Dilemma to High School and College students in the ACT, thanks to a touring grant from the Foundation for Young Australians. Bohemian presented a sell-out public season of A Prisoner's Dilemma as part of the Street's 2008 Independent Program.
July: Bohemian presented A Prisoner's Dilemma for a season as part of the Brisbane Festival's curated Under The Radar fringe at the Metro Arts Theatre in Brisbane.
Aug: Participated as a writer in PlayWriting Australia's 40-Hour Play Generator, producing after a home-brand breakfast cereal play, which was subsequently shortlisted for the Short + Sweet short play awards.
Oct: My script Robot Salesman Training Play produced as part of BKu & the Hunting Season's Duofest, directed by Lucy Hayes.
Performed a spoken-word mash-up of the top ten songs in the 1996 Triple J's Hottest 100 at the finale of the Hive Variety Nights.
Performed with Diplodocus for a Halloween concert event in Ainslie, Canberra.
Nov: Serious Theatre and director barb barnett produce a sell-out season of my sci-fi road-trip play Oceans all boiled into sky as the finale in the Street Theatre's 2008 Made In Canberra season.
Dec: Tied for first place in the ACT heats of the Australian Poetry Slam and was one of 18 poets Australia-wide to compete in the National Poetry Slam Finals at the Sydney Opera House.
Segments from my On the Night Sea performed by Jay Christian and others in an underpass in Portland, Oregon.
.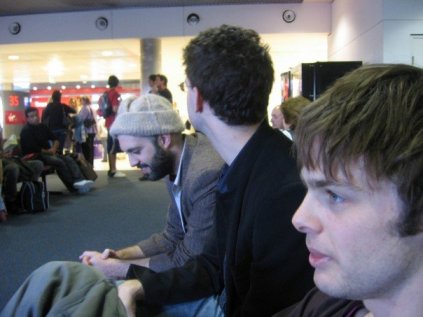 the bohemes in Brisbane airport: Mutt, Jackal an myself – photo by Mick
2007
Mar-Nov: Manager and curator of Belconnen Theatre's W.E.T. Season, featuring ten seasons of new works by young and emerging Canberra theatre artists.
Feb: Jan Wawrcynczak produced and Max Barker directed my script to heat you up and cool you down as a double-bill with Noonee Doronila's Manila Takeaway for a season at Belconnen Theatre as part of the National Multicultural Festival.
Performed a solo spoken-word set at the Hippo Lounge for the National Multicultural Fringe Festival, presenting Tamiflu vs Platyfus Fever.
Mar: Following its premier at the National Multicultural Fringe Festival in the ACT, Bohemian toured interactive science-theatre performance A Prisoner's Dilemma for a season at Higher Ground, as part of the Adelaide Fringe Festival.
Oceans all boiled into sky was one of 17 scripts selected for inclusion in the inaugural Interplay Online play festival, which linked me with professional dramaturg David Ryding.
May: Stage-managed Jigsaw Theatre's Flotsam and Jetsam on a three-week tour schools tour of Adelaide and rural South Australia for the 2007 Come Out Festival.
Acted in the ArtsACT-funded showing of Hadley's Bring Me The Head Of Edgar Allan Poe, directed by Naomi Milthorpe as part of the WET Season.
June-Dec: With Jan Wawrcynczak, applied for and received funding from the Foundation for Young Australians Launchpad Fund to plan and implement the Hunting Season, a season of performances in 2008 by young Canberra theatre and performance artists. I managed the June – December Research and Planning stage of the project, with the advice and support of Jan and the Belconnen Community Service.
July: Bohemian toured to Queensland to present A Prisoner's Dilemma as part of the 2007 Asia-Pacific Complex Systems Conference.
My script Footprints (a parable of man and god) was produced as part of the Canberra Rep's 2007 Comedy Revue.
Aug: My Victory March script sketches were produced by physical theatre duo A La Mad Nix as part of their Canberra Youth Theatre Open House season.
Aug-Oct: Performed six gigs as vocalist and VJ with music / theatre / visual-art / cooking ensemble Fight Fire With Knives, including Canberra Living Artist Week's State of Belonging and the Phoenix Bootleg Sessions.
Oct: Performed spoken-word set in Newcastle, NSW for the National Young Writers Festival (part of This Is Not Art), featuring God is a Renegade and All the pieces that weren't up to Standard.
Nov: Stage-managed the Street Theatre and ANU's production of Duncan Sarkies' Lovepuke, directed by Naomi Brouer.
Featured performer at the Best of the ACT Poetry Slams event at the Front Cafe, presenting my Sickness in the dark mix.
Dec: My script When I die I will rot and nothing of me will survive was produced as part of BKu's Duofest, directed by Alison McGregor.

chris finnigan and shasta sutherland in before the elephants reach the beach (bku 2006)
2006
Feb: Wrote and directed four episodes of The Adventures of Boy President, a serial drama presented as part of the National Multicultural Fringe Festival.
Mar: Professionally engaged to co-write Canberra Youth Theatre's Arcane Secrets, a large-scale performance event with more than 100 performers, staged in the ACT Civic Centre.
Professionally engaged to manage publicity for barb barnett and Serious Theatre's production of All-Mother at the Street Theatre.
Mar-May: Received funding through ArtsACT to write and workshop the first draft of a new work entitled Oceans all boiled into sky (working title: Car Play) with dramaturg Paschal Berry, director barb barnett and five professional actors. Oceans was one of five scripts nominated for the 2006 Max Afford National Playwrights' Award.
June: Won the very first ACT Poetry Slam at the Front Cafe with my beloved Platypus Fever.
Performed a downloaded piece of poorly-written erotic fiction entitled Special Education at the Street Theatre's Bunch of Fives monologue night, and was subsequently barred from performing there.
July: Wrote and directed Before the elephants reach the beach, which featured in BKu's Damned If You Duo play festival.
Aug-Sep: Travelled to the Philippines to take up a Writer's Residency with Tanghalang Pilipino at the Cultural Center of the Philippines in Manila. Working with Tanghalang's professional directors and actors, I wrote and workshopped two new scripts which were presented for short seasons in Manila: Sagrado sa Loob (Sacred Inside), co-written with Rogelio Braga and directed by Tess Jamias, and to heat you up and cool you down, directed by Issa Lopez.
Oct: From March 06 I worked as Programme Administrator for Hidden Corners Young Carers Theatre, providing respite and arts activities for young people caring for a family member with an illness or disability. Working with director Max Barker and the YWCA of Canberra, I was responsible for planning, budgeting and managing Hidden Corners' two-week tour to the Northern Territory to devise and perform a new performance entitled Carers' Territory with CarersNT.
My monologue When I was six I decided I didn't believe in God was performed by Nick McCorriston at the Street Theatre for A Bunch of Fives.
Dec: The ban was lifted and I performed at the final A Bunch of Fives monologue night at the Street Theatre, presenting a mash-up entitled All the pieces that weren't up to Standard at A Bunch of Fives.
2005
I co-wrote and performed in Raoul Craemer's Vidooshaka: the Indian Clown at the Multicultural Fringe Festival. My one-act play Hate Restaurants was directed by Estelle Muspratt for Canberra Youth Theatre's Whining and Dying, I contributed two pieces to BKu's duologue festival: Weasel and Brown on the beach and Playable Demo, written with Jack Lloyd, and I performed in Buzzing Productions' contact improvisation production in November.
Most epically, I was one of the producers of NUTS/Bohemian's One Night Only: Dallas Rockwell's Confessional Tour. ONO was three short plays set at a pop concert: Max Barker's and my improvisational piece Savage Dancefloor (a witchdoctor unleashes his evil upon the mosh-pit), Hadley's Flush and Stu Roberts' Loose… Ships.
2004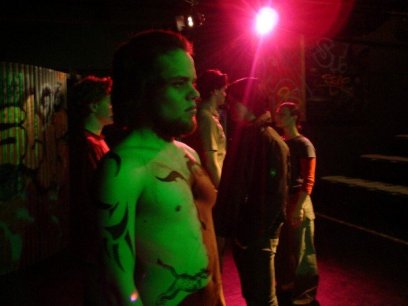 vampires – image by nickamc
In August, Bohemian produced and Nicky J directed my play Vampire Play, which was dramaturged by Filipino/Australian playwright Paschal Berry. Vnampqir tells the story of vampire gang warfare in a fictional subway under Canberra and it was Bohemian's biggest commercial success. (Let me make clear that what I mean by that is that we didn't end up coughing up more than a third of our yearly incomes to get the bastard on the stage, unlike all our other masterworks from 01-03.)
2003
In January, during the Canberra bushfires, I wrote and directed w3 w3lcome the future, a road trip play about a pilgrimage to see Canberra's guru. I also performed as "I" in BKu's Withnail and I, the Schmurz in Bohemian's production of Boris Vian's The Empire Builders, and the Man from Zod in Hadley's monologue The Man From Zod.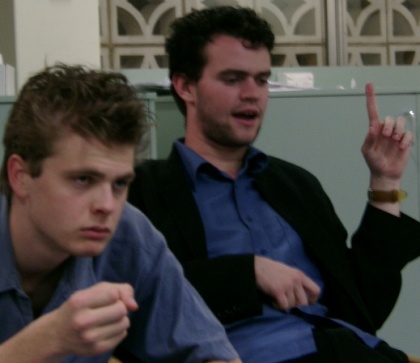 myself and jackal lloyd as 'I' and Withnail in BKu's Withnail and I – image by nickamc
Encountering Hadley was one of the single biggest events in my history as a writer. Hadley is a more different Canberra playwright who comes from the world of infomercials, a sexual obsession with Chuck Norris and drinking Gandhi's piss. It have been fruitful.
2002
In 2002, Bohemian produced Pinter's One for the Road (torture in a police state) alongside Stuart Robert's Bonesyard (19th century graverobbing), Steven Mallatrat's The Woman in Black (gothic horror) and Shakespeare's Titus Andronicus (grotesque pop classic!). Bohemian's sister company Opiate Productions produced a one-act play by me, Nick McCorriston and Muttley entitled Chosei: Eternal Life.
2001
In January, myself and three other deviants (Jackal Lloyd, Mick Bailey and Nicky J) formed theatre-collective Bohemian Productions. Our mission statement:
1. make plays
2. don't go broke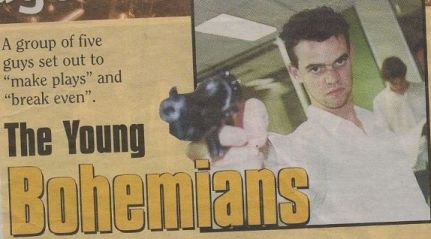 jackal in our very first piece of press (The Canberra Times, April 2001)
We began by producing a double bill of two one-act plays at the Currong Theatre in Gorman House: Harold Pinter's The Dumb Waiter and Jack and my Quiet Time. This is being the story of five strangers who wake up in a room with no memory of how they got there. One by one they are taken out and killed, and their bodies returned to the room.
Later in 2001, I wrote and directed my first full-length play; The Mischief Sense, about a swarm of supernaturally enhanced thieves. The review is fantastic: Script Fails in Tilt at Irony.
2001 – Quiet Time
2001 – The Mischief Sense
2002 – The Woman in Black
2002 – Chosei: Eternal Life / Frozen Shape
2003 – w3 w3lcome the future
2004 – Vampire Play
2005 – Hate Restaurants
2005 – One Night Only: Dallas Rockwell's Confessional Tour
2007 – To heat you up and cool you down