A fairly recent and totally welcome turn of events: Canberra Youth Theatre's Actors Ensemble will be presenting Autopsy Play Backwards and Other Plays, a selection of my short works in a free performance at the C-Block Theatre on Tuesday April 6.
Depending on who you are, that sentence may not make a lot of sense on first read. To provide some background:
The Actors Ensemble is Canberra Youth Theatre's elite squadron of performers. Selected at the beginning of the year through audition,10 performers aged 18-25 undertake an intense year-long program of workshops, masterclasses and productions under the direction of CYT Artistic Director Karla Conway, designed to transform them into a tight-knit collective of skilled and flexible theatre-makers.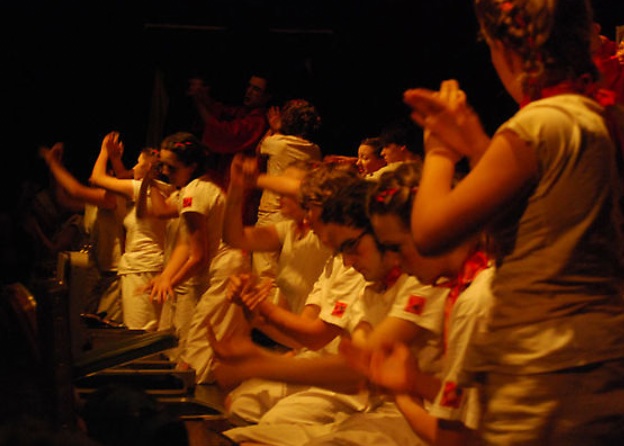 from CYT's 2007 production Comfort. photo by 'pling.
As well as several major productions (including the recent butoh-i-think Battlefield), the 2010 Ensemble will present the monthly Seed Staged Reading Program. From the website: 'The CYT Actors Ensemble will rehearse and present a staged reading of a new work, premiering plays from new Australian and international playwrights. Come along to the C Block Theatre once a month to see and hear the hottest new voices in contemporary theatre.'
The first of these readings is entitled Autopsy Play Backwards and Other Plays, a selection of my short works including Autopsy Play Backwards itself and a small bundle from my 22 Short Plays collection (follow links for full scripts). I'm really excited about the program, for two main reasons:
1. For a number of years, Autopsy Play Backwards has been the script of mine I most wanted to see staged. A number of theatre-makers have expressed interest, but somehow this simple 3 page fairytale of an autopsy, backwards, has always eluded a proper production. I understand that stage directions such as: 'ZOFIA puts MR G's heart back into his chest. The blood is sucked back into MR G's body,' may be challenging to carry out, but man 90% of the fun of theatre is in finding ingenious solutions to such challenges. Anyway, I'm really psyched to see what the CYT ninjas do with it.
2. To accompany ye autopsy play, the Ensemble have picked a range of my absolute favourites from 22 Short Plays. As well as Disease Play (Smallpox + Cancer + kareoke bar), which is such a charming snippet of dialogue I've worked it into a number of my spoken word sets and solo show Sun Drugs, the evening will feature Footprints: A Parable of Man and God, TV Guide, Coat Made of Eyes and Ile and Moondirt.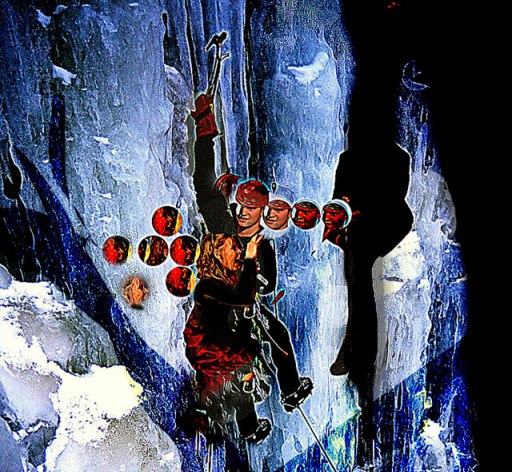 ile and moondirt. image by frosty
Ile and Moondirt! I'm not kidding! My beloved duo of pharmacist and blues singer, trapped on an icy cliff-face high in the Andes when the sun sets, forced to perch on a tiny ledge until morning, gracing a stage for the first time since late 2005! You know what I say to that?
ile: we dare not stop climbing tonight.
– we are high above a glacier lake in the gouging ice-peaks of the Andes
– as these mountains crash like pistons into the storming sky
– because we are hundreds of metres up an ice gully on a thin wedge of igneous rock
– since the sun has shuddered back beneath the earth and night-time is nailing in fast
– because of these reasons, we are pinned to the face of the mountain like drops of water to a windscreen, and within that analogy you can imagine us being PEEEEEELED
moondirt: from the windscreen like
ile: peeeeeeeeled from the windscreen like
moondirt: peeled from the windscreen like raindrops sometimes are peeled from the windscreen of an accelerating car.
Autopsy Play Backwards and Other Plays
7.30 – 8.15pm, Tuesday April 6
C-Block Theatre, Gorman House
FREE
More info on Canberra Youth Theatre website.