So then, something from the distant dim horizons of 20,008. In that year, I was one of three ACT poets to make it to the grand finals of the Australian National Poetry Slam, along with Hadley and Omar Musa. Technically it should have been just Hadley and Omar representing, since each state was only supposed to send two competitors, but somehow in the second heat of the state finals, I managed to fluke my way into a tie with Omar.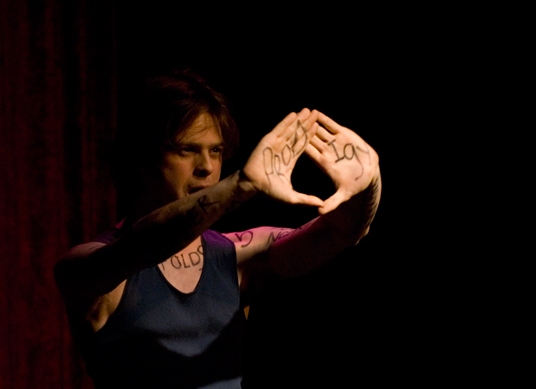 my self. image by deye aus
.
First of all, I performed my poem Who are you standing at the microphone talking to the people anyway? which I went on to perform at the finals in the Sydney Opera House – check out the video of that performance. Omar performed his poem Visions –
How can I tell my baby boy to learn Malay,
but when I call up my grandma, I have nothing to say?
By mad fortune, at the end of the night Omar and I were tying in first place. We had to each perform another poem as a tie-breaker. Omar performed his post-Cronulla-riots piece Open Your Eyes, which opens with a quote from Dr Dre's post-LA-riots track The Day the Niggaz Took Over:
Sitting in my living room, calm and collected,
feeling mad, I've gotta get mine respected.
I didn't have a second poem prepared, so I was scrambling madly through my notebooks for something that might work. Finally I tore two pages out of my book and stumbled up on stage already reading from them. My nervous performance, a high-speed summary of the Earth's early years, somehow scored enough points for Omar and I to tie again – at which point the judges said fuck it, and sent us both to the Opera House.
what you can't see in this image is the wreckage of the Opera House which Omar was laying to waste
At the finals, of course, Omar calmly and coolly blitzed the event, scoring first place and taking off to perform at the 2009 Ubud Writers Festival in Bali. It was an extraordinary performance by a blisteringly skilled artist, one of my favourite poets both written and live. Omar has spent the last eighteen months floating around the planet writing, recording and if I'm not mistaken, producing a new record – to be released on July 6 before he goes on tour supporting Gil Scott-Heron in Germany. Just… extraordinary.
Back on my own nostalgia trip: the tiebreaker poem which fluked me a spot in the Australian Finals was retrospectively titled World Creates Itself, and I have reproduced it below in all its informative glory. Dig!
world creates itself
All right then, let's get to grips with the reality of time a-passing – time a-passing – time a-passing – and time's a-passing –
First of all you have a sun – a star – somewhere in the outer fringes of the galaxy, spinning around in a wheel that turns once every 250,000 years – and round that star is spinning a great wheel of gas, dust, rock, ice and grit –
With your excellent eyes you can see it spinning, with your excellent eyes you can see it spinning –
Now all these specks of dust and ice and grit are whirling together at high speeds in great curves around the sun and ever so slowly, ever so gently, the force that is gravity draws two of them together – two particles flying alongside fly closer and closer until they stick together – and this is the inception of a planet – because now over many years that tiny ball of grit attracts other specks and spots to it, and all those little flecks of gas and rock swooping together around the sun begin to conglomerate –
– do you know that word – conglomerate? –
– into loose clusters of metal gas and rock – into a rough sphere –
First Jupiter, separating itself out of the whirling mess, then Saturn, Uranus and Neptune – and then much later, the high speed spittle flicking right around the sun – Mars, Earth, Venus, fucking Mercury –
So the Earth conglomerates – do you know what that means? – and the heavier fragments, the iron and the nickel, they sink right to the heart of it and the rock and the mud, that bulges around the outer edge, and the lighter stuff still – the gas and the H 2 O – floats around the shell in a huge cloud of vapour.
Oh the moon, you're right, the moon! But not that I forgot, just that the moon hits… now.
A huge flying rock one third the size of the forming earth careens somewhere out of the solar system and slams into the earth, but right now there's no surface, you know what I mean, there's no crust, so it just bombs into this bubbling ball of molten magma and splashes –
– up sprays this spurt of splashed up lava into orbit which rolls up into a ball – that ball is the moon – so what you've got to remember is that the moon is not a meteor that came out of space – the meteor that came out of space went into the earth and the moon is the liquid rock that got splashed up out of its way –
You understand, of course, that this world doesn't need someone like god to make it happen, and it doesn't need you as the ghost in its fucking shell. The world creates itself, it is tough like that.
i
mage from 'Astro 1: Slides for Class 1
'