Important news to begin with, then my own guff:

Ira Gamerman writes good things which you ought read.
First of all, American comrade-playwright Ira Gamerman has launched his own website, featuring a battery of information and background on his work. What you need to do is contact Ira to request a copy of his full-length SPLIT, which he brought to the World Interplay festival in Cairns last year. It's one of my favourite playscripts of ever, and as far as I know it's never been produced outside the US and don't you see this is your chance? Also bug him for a copy of Dated: A Cautionary Tale for Facebook Users (because you've seen enough embarrassing attempts at exploring social networking in live performance, you may as well see it done right) and Play (by play by play by play by play by play by play), because it's drawn from Samuel Beckett's stunning Play and it features me as a lecherous douche. Well worthwhile.
Secondly, Melbourne comrade-playwrights Tobias Manderson-Galvin and Glyn Roberts have launched their own Writers Theatre. Based on the Royal Court Theatre in London and Griffin Theatre in Sydney, the MKA Richmond is intended to showcase the best emerging playwrights and scripts. The MKA launches this November with a month of back-to-back play readings, before kicking off its 2011 season with Vedrana Klepica's JATO. To which I say: fuck yeah.
Jen Williams (right) and sisters in Illyria Productions' Bronte. Image by Rosie Woodford
.
Lastly, Sydney comrade-playwright Jen Williams and her company Illyria Productions opened their production of Bronte at the ATYP Theatre on the Wharf last week. Polly Teale's script tells the tale of Emily, Charlotte and Anne Bronte, their lives and how they came to be such renowned literary figures in our culture, but really the show is an exploration of how many fucking fly things you can do when your set is made entirely out of books. It's on until August 7 – go see go see go see.
Alright, now to the selfish me-related news.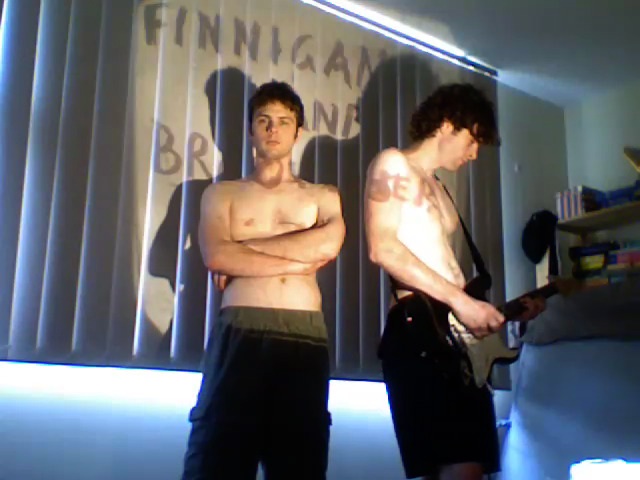 thank you, Sydney heatwave that forced us to go shirtless and thereby look like a pair of horrible fratboys
about to pour beer on each other in a Hilltop Hoods moshpit
Finnigan and Brother, the duo of my brother Chris (guitar/FX) and my self (words/handheld radio) is presenting a live set on FBI Radio in Sydney this Sunday 1 August. We're featuring on Sunday Night at the Movies, FBI's 'weekly journey into the nether regions of sound' from 9-10pm, hosted by Brooke Olsen. We're premiering a new work we've been devising entitled Solar System, as well as our re-enactment of the loveable Kings of Leon's onstage meltdown at the Reading Festival last year. Bless them for their commitment to their craft, their devotion to one another and their endless ability to humiliate themselves for my amusement (see pigeons shitting in Jared's mouth incident).
Solar System features abstract sound poetry (thank you Steve Reich's Come Out), real-life science history (the story of how the moon came to orbit the earth, to be precise) and high-octane action sequences (punching stingrays and fly-kicking a swarm of bees), with just enough room left over to abuse Rage guest-programmers for their unimaginative music video selections. A brief sample to whet your appetite:
This is a prison-break story in which the earth tries to break free from the sun and run from the solar system into the dark. It starts the night that each of the planets gets a new guitar.
Venus says 'I want to form a White Stripes covers band and play Seven Nation Army at every school assembly.'
Mars says 'I want the 12-string shaped like a crocodile so I can play planet blues.'
The sun says 'The Earth doesn't get one.'
The sun yells all the time: 'Scrape me clean, Mercury! Venus, recite Springsteen lyrics to me! Mars, kidnap children from their parents at Disneyland!'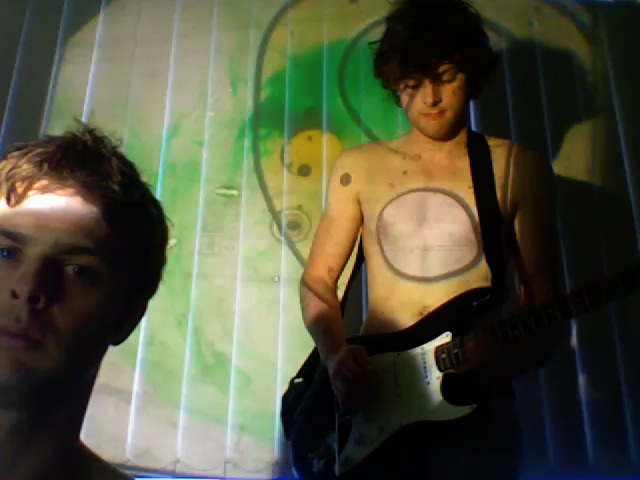 Chris: 'These photos mean that I can never run for prime minister.
'
We'll be on-air from 9.10pm – 9.40pm EST. If you're interested, tune in to 94.5 FM if you're in Sydney, or stream the show via the internet if y're not. If you're curious about this whole Finnigan and Brother thing, you can read the whole story, listen to tunes and check out our videos here – do it.