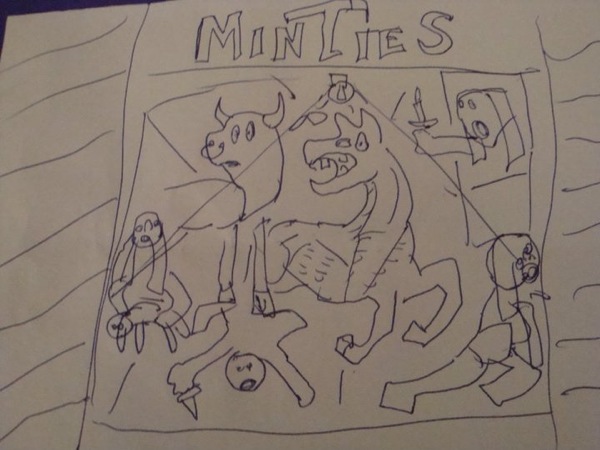 image by fregmonto stokes
So one of the most extraordinary things to come out of the ATYP playwrights studio thing at Bundanon last week was The Minties Project, featuring nine of my razor-sharp and charming fellow writers. I think it was Jo Erskine who conceived of the project: each participant was to compose a 60-second play based on the Humorous Cartoon on the back of a Minties Wrapper. We had other, more frivolous, tasks and exercises to complete during the mornings afternoons and evenings of the studio, so The Minties Project did not take place until early morning on Thursday 9 December.
Attached for your perusal is the result of our labours: IT IS 1AM AND IT IS MINTIE SCRIPT TIME, a compilation of all nine scripts and their associated Mintie wrappers.* Fully funded and compleatly endorsed by our friends at Nestle, this masterpiece of contemporary Australian theatre-writing features plays by Jess Bellamy, Jo Erskine, David Finig, Zoe Hogan, Sarah Hope, Nakkiah Lui, Tim Spencer, Phil Spencer, Fregmonto Stokes and Brett Walsh.
On every Critics' Best of 2010 list, IT IS 1AM AND IT IS MINTIE SCRIPT TIME is destined to take its place as one of the defining moments of 21st century Australian theatre. A new generation of writers have planted their flag at the heart of the Australian dramatic landscape. Experience the blunt, unrestrained force of a modern classic, download: IT IS 1AM AND IT IS MINTIE SCRIPT TIME.doc.
*except for Tim Spencer's – when you come to his contribution you may have to squeeze your eyes tightly closed and visualise a sorrowful looking moron standing by the side of the road holding a full garbage can while a garbage truck drives away.
For the sake of vanity, here's mine. I chose a fairly straightforward wrapper featuring a gentleman mowing a lawn. In this snapshot, our protagonist seems to be coming to terms with the size of the task ahead of him.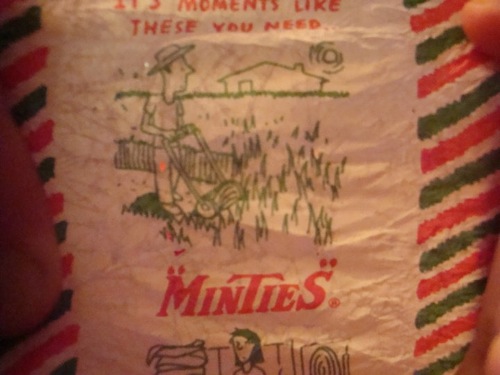 Tom Hanks: I am a dude about to go mow the lawn.
The Lawn: Mow me, baby! Now it's good for me to be mowed. And you know it!
Tom Hanks: Here I am with my hand-powered mowing machine. I am mowing away. Look at me mowing, because I am a man and a gentle angel of the lawn.
The Lawn: Ah! Ah! Ah! The wealth of the universe lies in your precise mowing technique. No-one has been more special or kind to me than you.
Tom Hanks: Wow, I need to stop for a minute. Jesus fuck, what a lot of lawn there is to go. So much lawn. So much goddamn lawn. No-one prepared me for the quantity of lawn possessed by this lawn.
The Lawn: Fucking mow me, old woman! I'll tell your wives you can't perform any longer!
Tom Hanks: Fuck you, you sack of shit. I'll fucking take the earth mover to you, horrible bitch that you are. If you were a sack full of cats it'd be Dumped-In-The-River-City, population you. Give me a mintie.
The Lawn: That will help.