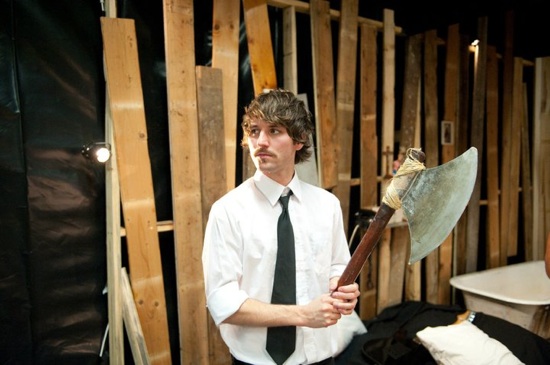 Paul Blenheim in MKA Richmond's production. Image by Sarah Walker.
Since embarking on a career as a playwright in 2001 (the first script happened when I was 17 and after that I had no choice) I have written lots of scripts, and attempted to write many more. Almost all of the original scripts caged in my hard drive will never be released because they are awful. Sometimes a script is awful but has potential; those I offer up to other people to read, reflect on and sometimes produce. Mostly though they are irredeemably bad and must be quarantined in the Scripts folder on my desktop where they cannot embarrass me.
Every so often, a script is so woeful that I can't even bring myself to finish it. The ideas are feeble, the narrative is cliched, the characters are 1-dimensional AND boring, the dialogue is sluggish and rambling, the themes are irrelevant,
AND YET:
In this wadded-up mess of failed creativity, there is a scene (or half a scene) worth salvaging. There is one exchange of dialogue that somehow works. There is an idea or an image which actually interests or amuses me. When that happens, I extract that fragment of healthy script from the diseased body from which it sprang, and put it aside. In 2010, I gathered together a selection of these fragments (or offcuts, or what-have-you) into a collection entitled 22 Short Plays.
Now, MKA Richmond is producing 22 Short Plays as part of its 2011 Season.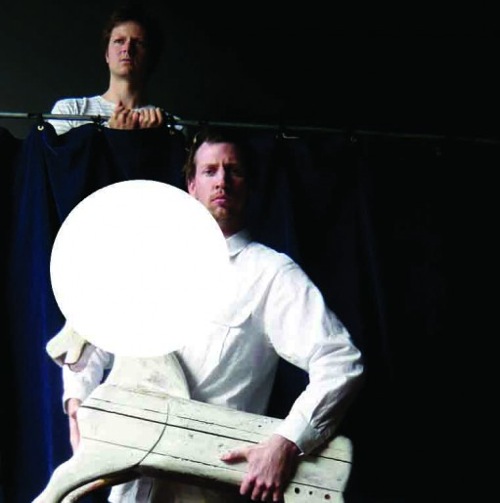 MKA's Glyn Roberts and Tobias Manderson-Galvin.
Melbourne playwrights Glyn Roberts and Tobias Manderson-Galvin formed MKA Richmond in 2010 with the wish of specifically attending to the needs of a blossoming new playwrights' community. Originally based in Richmond, MKA Richmond is currently housed in the Prahran Mission complex. The company's first season opened in May 2011 with Nathaniel Moncreiff's Sleepyhead and includes Vedrana Klepica's J.A.T.O. and Glyn Roberts' Horror Face, as well as my 22 Short Plays.
Directed by Tobias Manderson-Galvin, 22 Short Plays features performers Paul Blenheim, Conor Gallacher and Ellen Grimshaw. From the MKA website:
If you like your writing if you like your writing normal and normal and have at times been to the theatre, then this is also the theatre! At the beginning we'll ask you to sit. The conventions are many! People like to clap! Be like people! They're everywhere!
22 Short Plays. Rythmic. Provocative. Hilarious. Short. Witness as he effortlessly subverts the everyday and the banal; combining philosophy, poetry and pop-culture into a devastating, hysterical night of entertainment.
WARNING: Adult themes, blood, simulated solo sex scenes, blood, drugish references, blood, medium level coarse languages, blood, supernatural themes, a human substance that may not be blood, at least one attempt at a human pyramid, themes.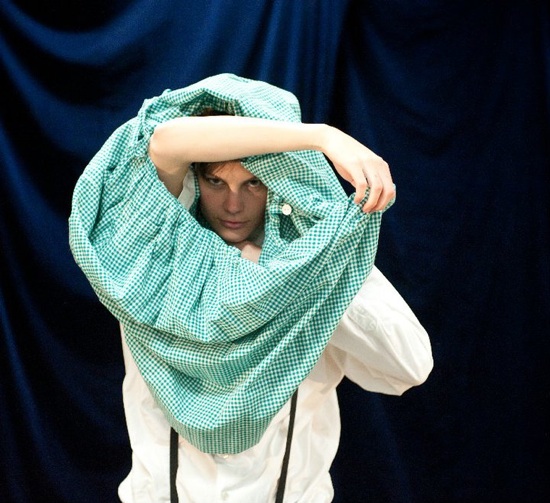 Ellen Grimshaw in MKA Richmond's production. Image by Sarah Walker.
This production is exciting to me for a lot of reasons. Although it's a deformed and debased animal, I really feel that 22 Short Plays is one of the best things I've ever created. As well as providing a home for some of my favourite orphaned scripts, the script enabled me to bring together work from across the full range of my writing practice. At one extreme, my transcription of a Westpac ATM's menu options:
WESTPAC ATM
Michelle: I'm a simple ghost. I have six moves, equating to six different smiles.
1. Please enter your four digit PIN number
2. Would you like to withdraw cash, transfer money or check your account balance?
3. How much money would you like to withdraw?
4. Was that from your cheque or your savings account?
5. We're just processing your request!
6. Sorry, your account funds are insufficient for this transaction. Please take your card.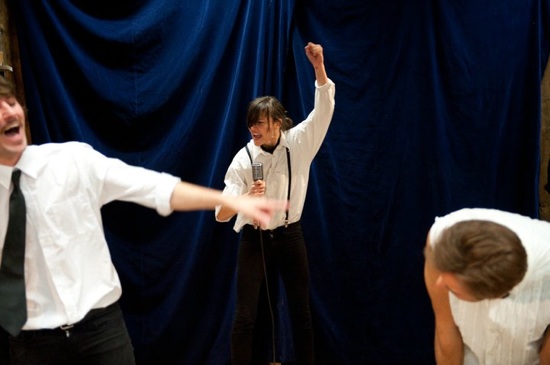 Paul Blenheim, Ellen Grimshaw and Conor Gallacher in MKA Richmond's production. Image by Sarah Walker.
At the other extreme, an extract from my 2002 attempt at Jeff Noon-esque cyberpunk Arcade Play, in which a virtual reality computer RPG glitches out mid-game:
ARCADE PLAY
HROTHGAR: So. I am Hrothgar: King of the Danes. This is my throne room, the hall of halls. Ne waes hit lenge pa gen paet se ecg-hete…
HROTHGAR trails away into Old English before the translation kicks back in.
HROTHGAR: Da se ellen-gaest… So. Times were pleasant for the people here until a fiend out of hell began to work his evil in the world. Grendel is the name of this grim monster.
BEOWULF arrives, dressed in BEOWULF gear.
HROTHGAR: So. What kind of man are you who arrive rigged out for combat? I have not seen a mightier man on this earth than the one standing here: unless I am mistaken you are truly noble. So.
BEOWULF: Greetings to Hrothgar. I am Beowulf. When I was younger I had great triumphs. Then news of Grendel, hard to ignore, reached me at home.  I have suffered extremes and avenged my people – their enemies brought it upon themselves, I devastated them. Now I mean to be a match for Grendel, settle the outcome in single combat. So.
HROTHGAR: Be on your mettle now, keep in mind your fame, beware of the enemy. Da com of more under mist-hleopum Grendel gongan.
BEOWULF: You what?
HROTHGAR: Godes yrre baer, mynte se man-scada manna cynnes.
BEOWULF: What?
HROTHGAR: Wod under wolcnum, to paes pe he win-reced, gold-sele gumena. Grendel gongan! Grendel gongan!
GRENDEL appears. BEOWULF faces up to him.
BEOWULF: So. Grendel. You have come to meet your match.
The throne room flickers and shudders and suddenly GRENDEL lies dead. HROTHGAR holds his severed arm.
HROTHGAR:  So. Grendel here lies slain by the mighty Beowulf. We will nail up his arm as a trophy, and a reminder of Beowulf's mighty strength.
BEOWULF: Wait a minute, I missed the battle.
HROTHGAR: Beowulf is formidable indeed. Sige hreo-secga swa hwette!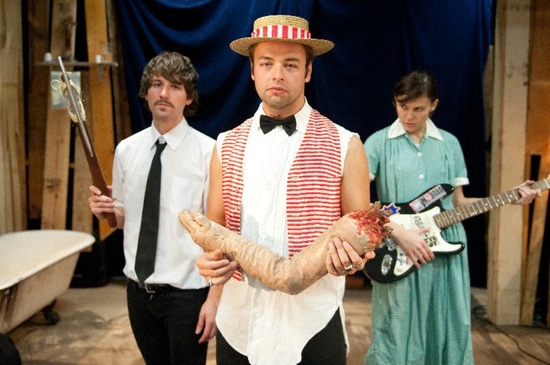 Paul Blenheim, Conor Gallacher and Ellen Grimshaw in MKA Richmond's production. Image by Sarah Walker.
22 Short Plays runs 31 May – 18 June at MKA Richmond, Level 1, 211 Chapel Street, Prahran, Melbourne. Tickets and more info on the MKA website here, or check the Facebook event page here.
The script is available for download and you can produce it (whole or in chunks) free of charge, provided you contact me about it first. Download 22 Short Plays.doc