Here is EVERYTHING I can think of that is happening right now that it is safe to discuss.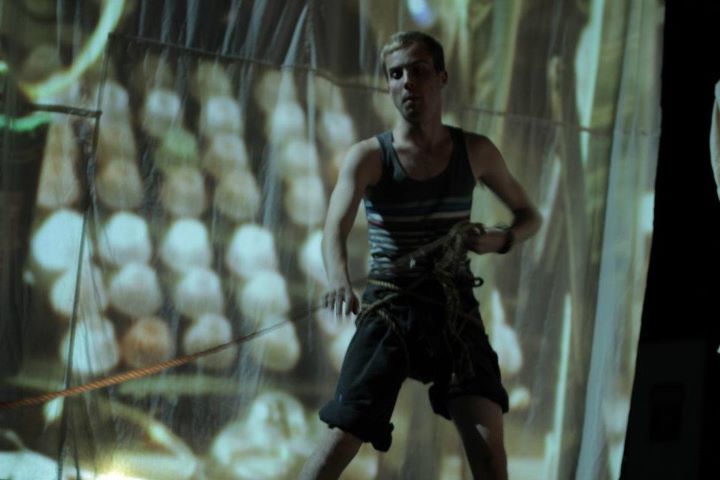 Nick Atkins as Ile. Image by Pollyanna Nowicki.
This week, a collective of vicious Sydney murtherers are buried in Erskineville's PACT Theatre, working on a development of my 2005 script Ile and Moondirt. Director Erica Brennan (who previously pulled together my short monologue so it's that kind of quest for Subtlenuance's Bare Boards Brave Heart last year) and a team of actors and designers are currently working on developing a design aesthetic for the world of the play.
Ile and Moondirt are two travellers from the city of Billenium, returning over a mountain range from a perilous quest located somewhere between a pulp fantasy novel and a mountain climber's memoirs. They're trapped overnight on a cliff-face at the bottom of an ice-field, and while they are tied together they begin to be haunted by strange sounds and presences and ANYWAY I'm not going to repeat to you the story. Erica describes the play as exploring 'the body and the obsolete', which I'd never thought of until she pointed it out, but I think is the best description of the play I can imagine.

Rachel Roberts as Moondirt. Image by Pollyanna Nowicki.
This Hour are showing the results of their residency at 7.30pm this Friday 20 January at the PACT Theatre in Erskineville. In the meantime, the This Hour blog is being updated with some phenomenal photos, video, text, all kinds of excitement.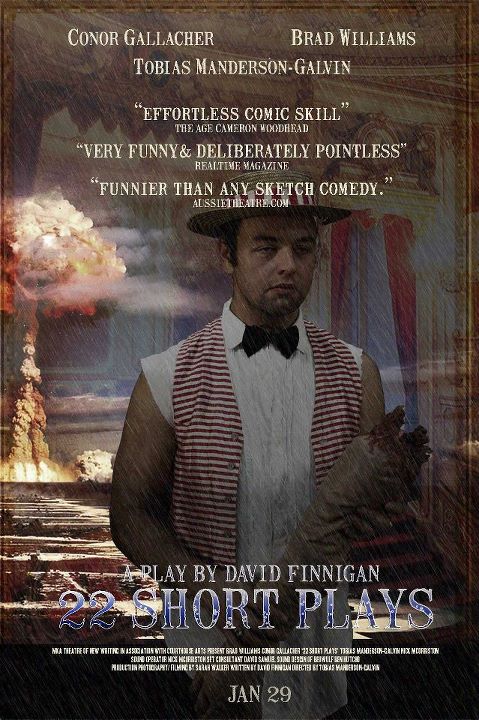 NEXT WEEK, shit gets even more real in Victoria: Melbourne's theatre of new writing MKA is taking their production of 22 Short Plays to Geelong. Courthouse Arts is producing a festival of performance in Geelong entitled New Year's Revolution (badass title, steal it), and MKA was invited to bring 22 Short Plays along. This is MKA's third production of the piece within the space of eight months – Melbourne, then Canberra, and now Geelong. And even more exciting, I'M GOING TO GET TO SEE THIS ONE.
You can also see this one – it's on at 1pm on Sunday 29 January at Courthouse Arts in Geelong, tickets available here.
On a totally different tack, the Sipat Lawin Ensemble have just begun rehearsals for Battalia Royale. Over November/December, myself and fellow playwrights Sam Burns-Warr, Georgie McAuley and Jordan Prosser hustled over to the Philippines to work with Sipat on our version of Koushon Takami's cult novel Battle Royale. Jordan's description:
'The loose adaptation sees the story of 40 high school children kidnapped and subjected to a sadistic totalitarian government program, in which they are each pitted against one another in a spiralling sequence of fight-to-the-death vignettes. Only one student can win. Only one will survive. Best friends and school bullies are pitted against their high school sweethearts, the loners and jocks come up against the rock band kids and science nerds, armed to the teeth and hell-bent on survival. It's like Kill Bill meets Degrassi Junior High.'
The show is on in February, and we're currently seeking assistance from good people to buy Sam a plane ticket back to Manila so he can document the final production and we can complete the final draft of the script, retrofitted with Sipat's additions and edits through the rehearsal process. If you have a spare cent to donate, hustle to our Pozible site, and you can avail yourself of all the weird prizes artists offer up when they have nothing to sell but themselves. (I have committed to write a short play for anyone who contributes a certain amount – knowing me, it will probably be better than the scripts I have been professionally commissioned/funded to write.)

Nickamc and Dead DJ Joke at You Are Here 2011. Image by Joe Brock.
The next thing to say is that the You Are Here festival is back in the Canberra CBD from March 8-18, and I am once again producing it. I am NOT, however, curating it – that is the responsibility of my co-producers Yolande Norris and Hadley, and they have done a fucking wicked job. There are a brace of cool artists and events that I am excited about, and it is weird for the production manager to be feeling excitement rather than dread, so I think that's pretty cool. More going up on the website in the next couple of weeks.
And lastly, I recently received a DVD of Daramalan College's production of oceans all boiled into sky. A gang of Year 12 students working with Joe Woodward and Cara Irvine pulled together Oceans for their final assessment, and they did a superb job. It is rad watching a whole new slice of humans take that devil script and whip it into life: much respect.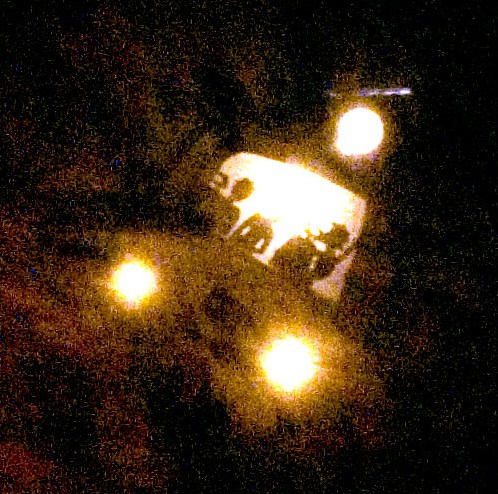 design by gillian schwab. photo by 'pling.
And that is it, that is everything.