image by Leanne Dixon
I'm a writer, theatre-maker, game developer and pharmacy assistant from Canberra, Australia.
I produce game and performance works that explore concepts from Game Theory, Complex Systems science, Network Theory and Resilience. I work regularly across the UK, Australia and the Philippines.
I work with research scientists from institutions including University College London, the Stockholm Resilience Centre, the Australian Academy of Science and Nanyang Technological University in Singapore.
I'm a member of Australian science-theatre ensemble Boho, and an associate of Coney (UK) and the Sipat Lawin Ensemble (Philippines).
I'm a Churchill Fellow (2012), an Australia Council Early Career Fellow (2014-16) and an Asialink Fellow (2015). I have been a resident artist for the Battersea Arts Centre in London, Tanghalang Pilipino in Manila and Campos de Gutierrez in Medellin, Colombia.
I've been commissioned to create new work for the London Science Museum, the Natural History Museum, Nesta UK, the Imperial War Museum and Forum for the Future.
My playscript Kill Climate Deniers was awarded the 2017 Griffin Award. I've also been nominated for the Queensland Premiers Literary Award (Vampire Play, 2004) and the Max Afford Playwrights Award (Oceans All Boiled Into Sky, 2006, and Kill Climate Deniers, 2014).
I founded and co-directed two ongoing arts festivals: the Crack Theatre Festival in Newcastle (2009-10), and the You Are Here festival in Canberra (2011-13).
I write and present original scripts, performances, interactive games and workshops for festivals, conferences and businesses.
 pic by jordan prosser
ENSEMBLES
Boho
I am a founding member of science-theatre ensemble Boho. Working with research scientists, Boho creates interactive performances and workshops based on concepts from complex systems science. Boho has presented work for University College London, the Stockholm Resilience Centre, the London Science Museum, Earth Observatory Singapore, the Battersea Arts Centre and Swedish NGO Miljöverkstan.
Coney
I am an associate artist of UK interactive theatre company Coney. As associate in residence, I create and present workshops and participatory performances, including Shadow of the Future (for the Imperial War Museum) and 95 Years or Less (for Forum for the Future).
Sipat Lawin Ensemble
I'm a regular collaborator of Filipino theatre ensemble Sipat Lawin. I've scripted and co-devised Sipat productions including Are You Ready To Take The Law Into Your Own Hands?, Battalia Royale and Gobyerno.
Too Many Weapons
Formed in 2011 to adapt pulp thriller Battle Royale into a large-scale performance for the Sipat Lawin Ensemble, 2MW has since gone on to create documentary theatre show Kids Killing Kids (Best Experimental Performance, Melbourne Fringe 2013) and video series the Rizal Raps.
Finnigan and Brother
With my brother Chris I create music and spoken-word performances which have toured to festivals and venues around Australia and Colombia.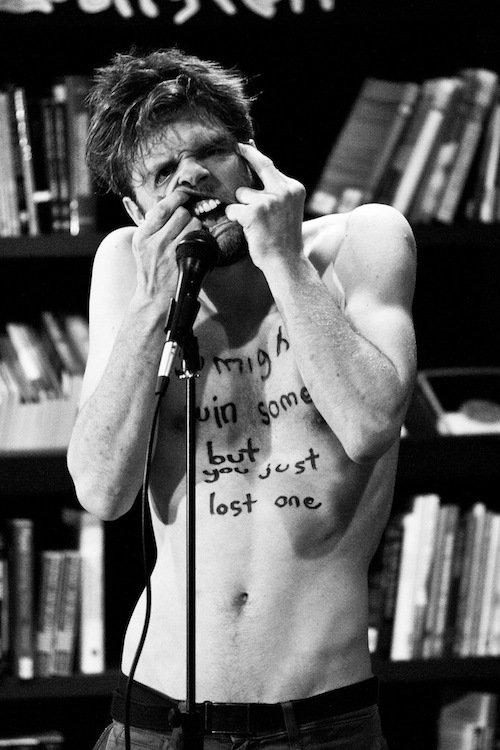 image by Adam Thomas
Read an older bio, if you'd like to see what I used to say about myself.